China Airlines Flight 642 was a flight that crashed at Hong Kong International Airport on 22 August 1999. It was operating from Bangkok (Bangkok International Airport, now renamed Don Mueang International Airport) to Taipei with a stopover in Hong Kong.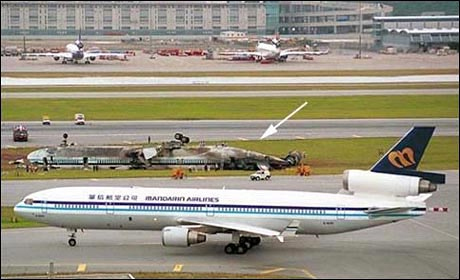 The plane, a McDonnell Douglas MD-11 (B-150), was operated by subsidiary Mandarin Airlines on behalf of China Airlines. While landing during a typhoon, it touched down hard, flipped over and caught fire. Of the 315 people on board, 312 survived and three were killed.
The route continues to operate today with the flight no longer originating in Bangkok and is strictly a Hong Kong-Taipei route. Bangkok-Hong Kong service ended on 31 October 2010. The route is now flown by a Boeing 747-400 and Airbus A330-300.
Flight 642 was one of only two hull losses of MD-11s with passenger configuration, the other being Swissair Flight 111, which crashed in 1998 with 229 fatalities. All other hull losses of MD-11s have been when the aircraft has been serving as a cargo aircraft.
Wikipedia – China Airlines flight 642