At a press conference yesterday in Slovenia, SHS Aviation (operating as VLM Airlines and awaiting its AOC) presented its flight schedule, Slovenian newspaper Večer reported. From May/June Maribor Airport will be connected with London, Berlin, Hamburg, Barcelona, ​​Zurich, Belgrade, Podgorica and Split and the Chinese cities of Xian, Chongqing and Nanchang.
Contract signed for a lease of Edvard Rusjan Maribor Airport for 15 years.
Yesterday a 15-year long-term leasing contract between the Slovenian state and Aerodrom Maribor (Maribor airport) was signed. On the press conference Slovenian minister of infrastructure Peter Gašperšič explained that the airport is very well located for a logistics center. Ladimir Broli, one of the Maribor airport directors said that Maribor Airport never fully capitalized on its potential. "Today's signing of a long-term contract represents a commitment by the owners to fulfill the required goals."
The signing of the contract was also attended by Siu Yin Pang, director of SHS Aviation, which owns the Aerodrom Maribor.
The press conference continued with the announcement of an investment of 139 million (€/$?) and the start-up of long-haul flights to Asia. VLM Airlines will provide 6 Fokker 50 aircraft for European flights between Maribor Airport and London, Berlin, Hamburg, Barcelona, ​​Zurich, Belgrado, Podgorica and Split but is still waiting for an operating license (AOC). Siu Yin Pang added that they intend to invest at least 300 million euros to build new terminals, hotels and a shopping center.
This year Maribor airport will be connected with 3 Chinese cities Xi'an, Chongqing and Nanchang, operated with Airbus A330. But expects 11 scheduled flights with China in the coming years. SHS Airline (VLM Airlines) will operate 6 Fokker 50, 15 Airbus A330 and 6 Airbus 320, the last two aircraft types will be registered in Slovenia (with a Slovenian AOC).
In 2021 Maribor airport predicts 1.54 million passengers per year. To compare: the passengers record year was 2015 with 24886 passengers but last year they only welcomed 8890 passengers.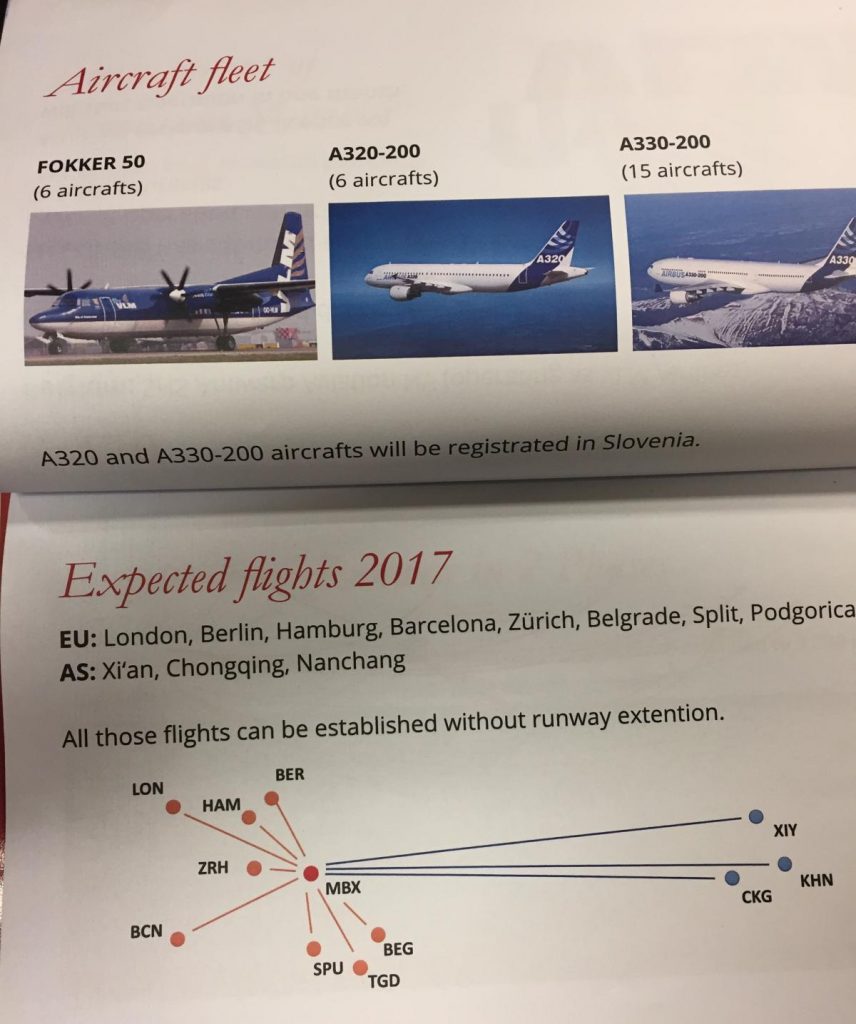 Picture copyright Matija Stepišnik https://www.twitter.com/MatijaStepisnik