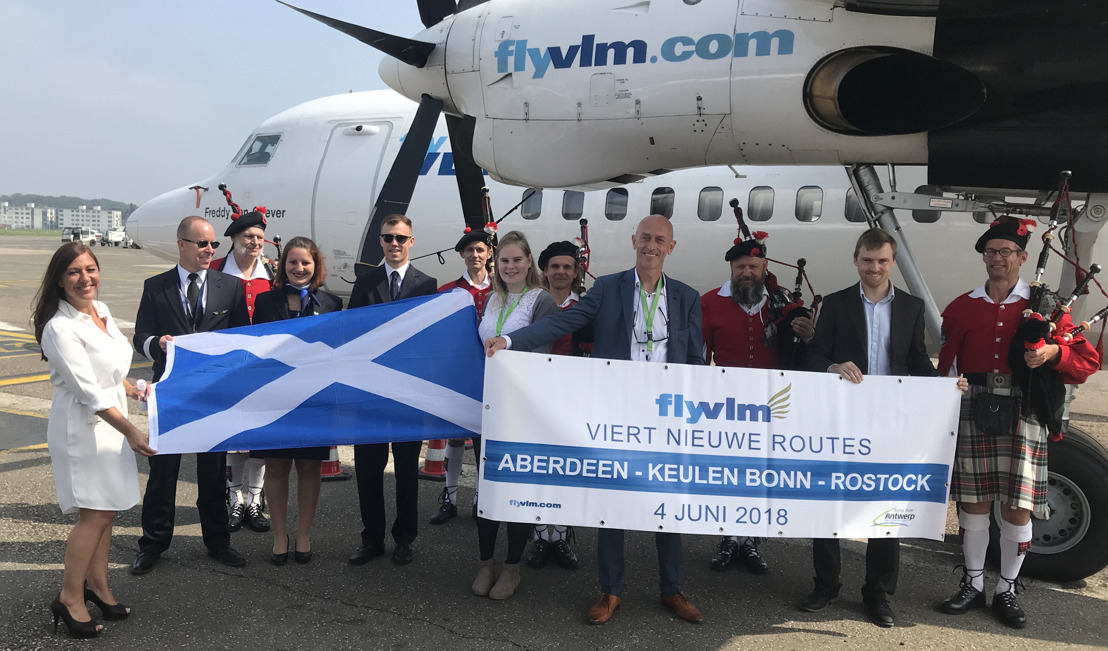 New flights to Germany and Scotland
Today VLM added and one Scottish and two new German destinations to its network. The Antwerp-based airline will operate three flights per week on the Antwerp-Aberdeen route and will fly five times per week to the German airports Cologne-Bonn and Rostock. Tickets are available from GBP/EUR 59* for all existing and new destinations via www.flyvlm.com.
"This is a very exciting time to visit Antwerp. From now until the end of 2018, this Baroque city will be celebrating the life and legacy of one of its most famous residents, artist Peter Paul Rubens, we've just opened the doors to DIVA, a brand new, state-of-the-art visitor experience exploring our love affair with diamonds, and throughout the summer, we'll be enjoying the good life with a host of spectacular food and drink festivals. Of course, Antwerp is a great gateway to other fantastic cities in Flanders too, such as Ghent and Mechelen, just a short train ride away. We're looking forward to giving a warm welcome to new visitors from Aberdeen and across the north east of Scotland", said Andrew Daines, Director VisitFlanders.
"We are not only delighted to offer our passengers two new, attractive short-range destinations but with VLM, we are also pleased to welcome a new airline at our Airport," says Johan Vanneste, CEO of Cologne Bonn Airport.
VLM offers three weekly return flights (on Mondays, Wednesdays and Fridays) between Antwerp and Scotland. The flight leaves in Antwerp is at 11:40 A.M. and arrives in Aberdeen at 12:40 P.M. On Mondays the Fokker 50 leaves Aberdeen at 1:10 P.M. and lands in Antwerp at 4.10 P.M. On Wednesdays and Fridays the aircraft takes off at Aberdeen Airport at 1.10 P.M., makes a short stopover in Birmingham and arrives in Antwerp is at 5:35 P.M.
The flights to Cologne-Bonn and Rostock are scheduled on Monday, Tuesday, Thursday, Saturday and Sunday. On Weekdays, the Fokker 50 departs from Antwerp at 11:45 A.M. and picking up extra passengers at Cologne-Bonn Airport before continuing its course to Rostock, where the aircraft lands at 2:15 P.M. The departure of the return flight in the North German port city is scheduled at 2:45 P.M. After a short stopover in Cologne-Bonn the Fokker 50 arrives at  Antwerp Airport at 5:35 P.M. On Saturdays and Sundays other schedules are applicable.
VLM Airlines arrives at Cologne Bonn
Cologne Bonn Airport's summer network has been further strengthened today with the arrival of Belgian regional operator VLM Airlines. Joining the German gateway's roll call, the airline has launched new routes to Rostock and Antwerp utilising its fleet of 50-seat Fokker 50s.
"We are not only pleased to now offer our passengers two new and attractive short-haul destinations with VLM Airlines, but we also welcome a new airline to our airport," comments Johan Vanneste, President & CEO, Cologne Bonn Airport.
With neither service facing direct competition, VLM Airlines adds the North Rhine-Westphalia airport's eighth domestic connection as Rostock joins established links to Berlin Tegel, Berlin Schönefeld, Munich, Hamburg, Dresden, Leipzig/Halle and Sylt. As VLM Airlines becomes Cologne Bonn's 31st carrier, the airline will be providing the only service to Belgium from the German airport at this time.
As Cologne Bonn celebrates the inaugural flights of the five times weekly services, the introduction of these new destinations will see an extra 1,000 weekly seats added to its capacity throughout Summer 2018.
Monday 4 June 2018