Daily connection between Ostend-Bruges and Manchester Airport
Antwerp-Manchester: 2 daily flights on weekdays and one return flight on both Saturdays and Sundays
VLM will open two additional routes on 1 October 2018: Antwerp-Manchester and Ostend / Bruges-Manchester. Both scheduled services will be flown daily. From Monday to Friday there are even two return flights a day between Antwerp Airport and Manchester. Manchester is the fourth VLM destination in the United Kingdom after London City, Birmingham and Aberdeen. Tickets are available from 39 euros * (one way, including airport taxes) via www.flyvlm.com.
The connection between Ostend-Bruges and Manchester is completely new. The Antwerp-Manchester service was already started on October 6, 2009, by VLM Airlines. In 2010 CityJet, the then Irish subsidiary of Air France-KLM took over the route. Following a restructuring of its network, CityJet decided in September 2012 to close the Antwerp-Manchester route. From 1 October, VLM will thus fly again to the fifth largest city in England.
"For the first time in history, VLM will connect an English city with both Ostend and Antwerp. Although Manchester, which has more than half a million inhabitants, was known as the archetype of an old industrial textile city, there has been massive investment in urban renewal over the past 20 years. As a result, Manchester has now become a vibrant, modern city with many eye-catching buildings," says Konstantijn Huys, Commercial Director at VLM. "Manchester has a lot to offer in business, sports and tourism. Through this new destination, you can easily visit the beautiful Lake District. Liverpool, the birthplace of The Beatles, can also be reached quickly and easily from Manchester Airport."
Marcel Buelens, CEO of Antwerp International Airport and Ostend-Bruges International Airport, added: "These flights to Manchester from both Antwerp and Ostend not only mean a continuation of our intentions to offer as many business destinations as possible from the Flemish airports, must also be seen in the context of Brexit and our belief that the British market will remain a good market for Flemish entrepreneurs. Of course, we cannot forget our football heroes at ManU and City. Think of the many Flemish supporter clubs that weekly put in buses to attend competitions. This is now possible at very democratic prices by plane. We wish VLM all success in this new chapter."
Manchester has been the centre of innovation for British pop music for decades. It was the home of The Bee Gees in their early years and a lot of leading bands ranging from Joy Division, New Order, 10CC, Simply Red, The Smiths, Oasis to Take That are from Manchester. The English city is known worldwide thanks to Manchester United, one of the few football clubs to win all three UEFA main competitions. However, anyone who wants to see Kevin De Bruyne and Vincent Kompany at work does not have to go to Old Trafford but to the stadium of Manchester City.
* Promotional price for bookings between 24 and 30 April and travel from 1 to 27 October 2018
Timetable Antwerp-Manchester route from 1 October 2018
| | | | |
| --- | --- | --- | --- |
|  Route                             | Departure | Arrival | Days |
| Antwerp – Manchester | 07:30 | 08:25 | 123456- |
|  Antwerp – Manchester | 17:00 | 17:55 | 12345– |
|  Antwerp – Manchester | 12:20 | 13:15 |  ——7 |
|  Manchester – Antwerp | 13:30 | 16:15 | 123456- |
|  Manchester – Antwerp | 18:25 | 21:10 | 12345-7 |
Timetable Ostend-Bruges Airport – Manchester route from 1 October 2018
| | | | |
| --- | --- | --- | --- |
|  Route                             | Departure | Arrival | Days |
|  Manchester – Ostend-Bruges | 08:55 | 11:40 | 123456- |
|  Manchester – Ostend-Bruges | 13:45 | 16:30 |  ——7 |
|  Ostend-Bruges – Manchester | 12:10 | 13:00 | 123456- |
|  Ostend-Bruges – Manchester | 17:00 | 17:50 | ——7 |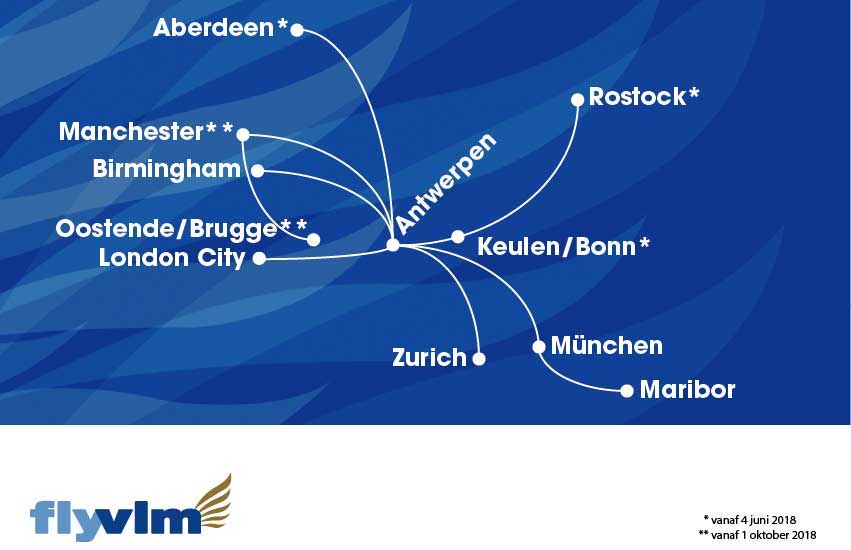 ---