For the first quarter of 2018 SHS Aviation (which took over bankrupt VLM Airlines) plans a very ambitious network: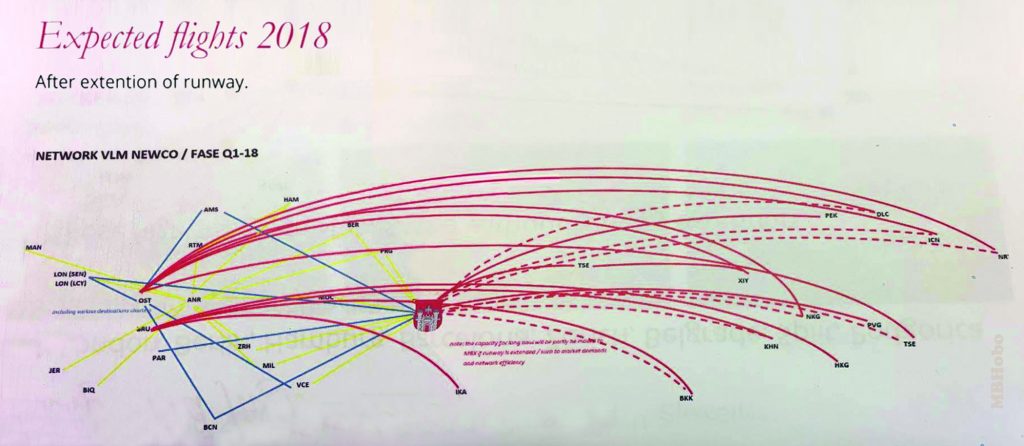 From this chart published today, it appears that the airline will have its main hub at Maribor, Slovenia, with secondary hubs in Belgium at Antwerp, Brussels and Ostend.
The number of destinations (to be served by a fleet of 6 Fokker F50s under Belgian AOC, 6 Airbus A320s and 15 Airbus A330s under Slovenian AOC) is very extensive. Apart from feeder flights in Europe and a local network around Antwerp (to London, Manchester, Rotterdam, Hamburg, Berlin, Prague, Maribor, Zurich, Milan, Venice, Biarritz and Jersey) and to a lesser extent Ostend (to Amsterdam, London, Barcelona and Venice), the long haul destinations are all located in Asia.
Brussels would see flights to Tehran,  Bangkok,  Nanchang and Hong Kong. Ostend might have flights to Xi'an,  Nanjing, Astana, Seoul, Dalian and Tokyo Narita. And the majority of long haul flights would take off from Maribor to a variety of Asian airports.
Is this business plan realistic? Time will tell, but in any case it is very ambitious, to say the least. The new owners of SHS Aviation better have deep pockets!
Discuss: http://www.luchtzak.be/forums/viewtopic.php?f=7&t=60576&start=60
Thanks to Mariborchanka for providing the updated map.