The A321 offers the best in class fuel efficiency and low operating costs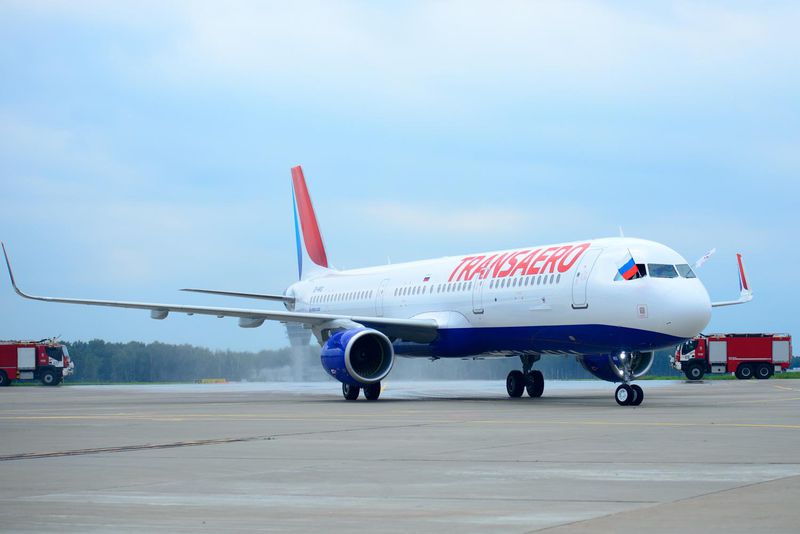 Transaero Airlines, Russia's second largest airline, took delivery of its first Airbus A321 aircraft. The festive ceremony was held in Vnukovo international airport (Moscow) on the arrival of the A321 welcomed by the airline management, representatives of Vnukovo, Airbus and members of the media. The aircraft is delivered as part of Transaero's contract with ICBC Leasing Company.
‪Transaero's A321, powered by CFM56 engines, features a two-class cabin layout seating 184 passengers (eight in business  and 176 in economy ). The spacious configuration offers unbeatable passenger comfort in both classes. The airline plans  to operate its A321 fleet on premium international routes.
Olga Pleshakova, CEO Transaero Airlines said, "We are very pleased with this important step made towards further development of our cooperation with Airbus. I would like to express our sincere gratitude to the largest Chinese bank – ICBC Bank and its subsidiary ICBC Leasing, who trust Transaero as a reliable partner, which is highlighted by the implementation of the signed contract. The addition of highly efficient aircraft to the company's fleet will contribute to enhancing the company's profitability, optimizing the airline's passenger capacity, and will see withdrawal of aircraft, which are of low demand in the current market conditions."
‪"We are delighted to welcome Transaero, one of the leading Russian airlines, as a new Airbus operator. Transaero will undoubtedly benefit from the A321's unbeatable operating costs and passenger comfort in all classes,'' said John Leahy, Chief Operating Officer, Customers
Transaero Airlines launched services in November 1991, and currently serves more than 200 routes all over the world.
The A320 Family is the world's best-selling single aisle product line with over 11,800 orders since launch and more than 6,600 aircraft delivered to more than 300 operators worldwide. Thanks to their widest cabin, all members of the A320 Family offer unmatched comfort in all classes and Airbus' 18" wide seats in economy as standard. With one aircraft in four sizes (A318, A319, A320 & A321), the A320 Family, seating from 100 to 240 passengers, seamlessly covers the entire single-aisle segment from low to high-density domestic to longer range routes.
3 AUGUST 2015 PRESS RELEASE