Rien, the 10-year old daughter of Ingelmunster mayor Kurt Windels, suffered second-degree burns on her flight from Las Palmas to Brussels. The Thomas Cook pilots decided to divert the Airbus A320 (OO-TCW) to Faro, Portugal, Belgian newspaper Het Laatste Nieuws reports.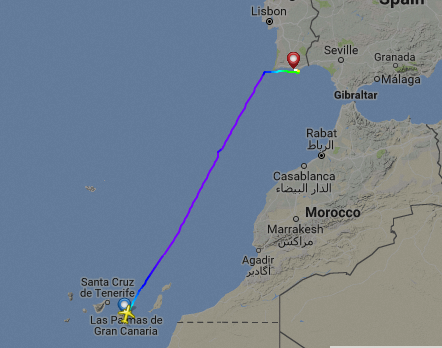 During the flight, hot tea got spilled over her legs. Flight HQ1647 on 12th of April diverted to Portugal and the girl was transported to a hospital in Faro. "Today she's fine", the mayor says. "She gets medical treatment at home and within a few weeks, all traces from the incident should be gone. We were shocked and Rien suffered a lot of pain when it happened, but we received good medical assistance".
The mayor also questions the use of hot fluids on board. "When you want to knock a nail in a wall at your home, you need protective glasses. But in an unstable and little-space environment like an aircraft, there is no protection available for hot fluids". The mayor ended: "We won't file a complaint against the airline because the tour operator (= also the airline) acted responsibly, and our travel insurance covers the costs".
Belgian media wrote that the hot tea was spilled by a flight attendant, but witnesses on board of the aircraft reported that no flight attendant was involved in the accident, but rather a member of the family of the girl.
Forum discussion: http://www.luchtzak.be/forums/viewtopic.php?p=349999#p349999
Flightradar24: https://www.flightradar24.com/data/aircraft/oo-tcw#d0abfac
The Aviation Herald: http://avherald.com/h?article=4a7acc8d&opt=0
Het Laatste Nieuws [Dutch]: http://www.hln.be/regio/nieuws-uit-ingelmunster/dochter-burgemeester-verbrand-na-morsen-hete-thee-op-lijnvlucht-a3133902/