The passengers of a Thomas Cook Airlines Belgium flight from Brussels Airport to Corfu and Zakynthos experienced a terrible misfortune yesterday afternoon during takeoff of their Airbus A320 registered OO-TCT. Having to wait one more day in Brussels, Aurélie and Jean-Pol point the finger at the passivity of Thomas Cook and Neckermann, the two companies in charge of the journey.
Aurélie Vivane, from Orp-Jauche, takes a bitter appraisal of the small weekend of relaxation she has offered herself. "I have already lost one of my four days of rest on the spot and I am even more stressed than before." In fact, an aeroplane trip from Brussels that went very bad yesterday afternoon.
"A few minutes after takeoff, around 14:00, we heard a dull sound coming from outside," recalls Aurélie. "The plane began to shake and lose altitude. We were all squeaky. Some passengers even vomited. At that point, we are still thinking of the worst … Finally, we turned around, turned a little over Brussels and landed in Zaventem around 14.30." Thomas Cook Airlines, one of the two companies in charge of the flight, explains: "There was a" bird strike ", that is, a bird struck the plane. In accordance with the procedures, the pilots returned to Zaventem for a full inspection. "
While the passengers waited aloof, engineers in Brussels found "significant damage to the engine". "Repairs were necessary," says Thomas Cook Airlines, who adds that it tried to find another aeroplane to take tourists to Greece. "But in high season there was nothing available."
"We waited several hours without being given any information about the sequence of events."
Their flights cancelled, Thomas Cook and Neckermann guests were accommodated in the capital (at the expense of travel companies) until Friday when a new flight to Corfu is scheduled for 13:00 (operated by A320 OO-TCV). Not enough to calm for Aurélie Vivane and the other 176 passengers.
"What particularly annoyed us was that we were not kept informed of what was happening," says she. "None of the company's employees worried about us in spite of the misfortune we had just experienced. Everyone was stressed and no one told us what was in store for us. "
The same goes for Jean-Pol Schrauwen. "The staff of the two companies left us," he explains. "It was by chance that we recovered our bags, returning to the information desks. And again, some of them were completely open when it was not justified since there was no damage in the hold." And the passenger to evoke other small details that have rotted their day off yesterday: "To say that we have just received a letter of apology for all these inconveniences …"
Very disappointed with their trip, the two passengers have only one wish: to reach their place of residence as quickly as possible. So as to forget these misadventures and finally relax.
Source: L"Avenir and own research
No compensation
Thomas Cook Airlines confirms that passengers on the Brussels-Corfu / Zakynthos flight should not be compensated for the problems encountered yesterday.
"Given that a" bird strike "is a typical case of force majeure, there is no reimbursement," the company spokesman said.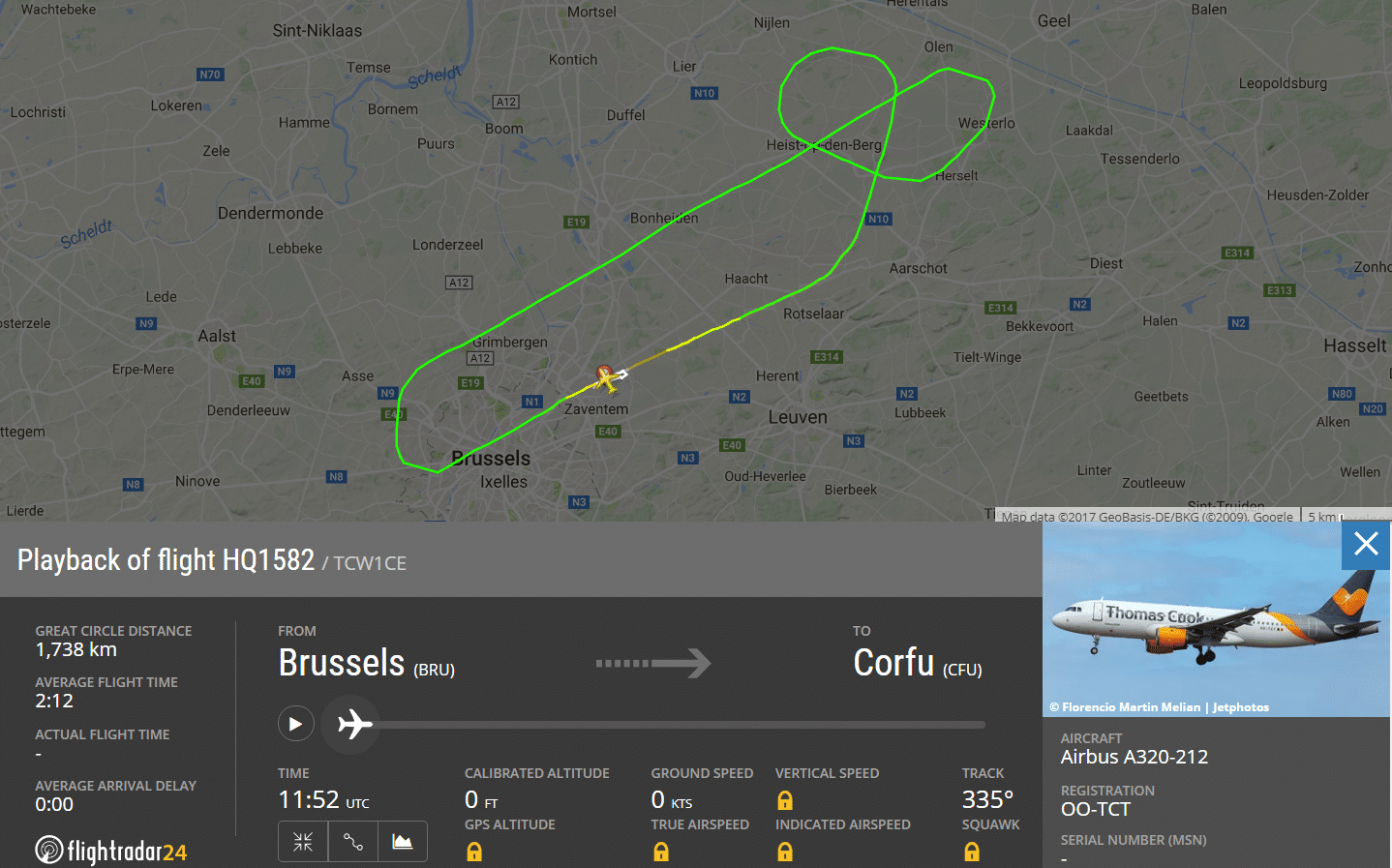 @LuchtzakBelgium the OO-TCT over Jette after his birdstrike with a strange sound engine #thomascook #birdstrike pic.twitter.com/GGFouzno6v

— Quentin Jo (@QJoschko) August 4, 2017