In Exit Sabena kijkt Histories terug op de groei, de glorie en het verval van de Belgische luchtvaartmaatschappij. Deze documentaire omspant een periode van tachtig jaar en vertelt aan de hand van nooit eerder geziene archiefbeelden en persoonlijke getuigenissen vooral de emotionele, de menselijke kant van het verhaal. Zo'n kleine tachtig jaar geleden krijgt België – onder het impuls van Albert I , zijn eigen luchtvaartmaatschappij. Privé – investeerders en de overheid slaan de handen in elkaar. Het debuut is veelbelovend.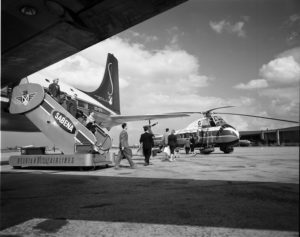 In 1925 scoort Sabena al een eerste transcontinentale vlucht naar Leopoldstad. Het lijkt alsof de Belgische luchtvaartmaatschappij meer groeikansen heeft dan haar concurrenten van KLM, Lufthansa en British Air. Vermeldenswaard tussen 1923 en 1929 telde Sabena in het totaal 27.000 passagiers over een periode van zes jaar. In 1999 waren er 27.000 passagiers per dag. Van 1940 tot 1960 kent Sabena gouden jaren. Tijdens de oorlog richt de maatschappij zich vooral op inlandse vluchten in de kolonie. Na de bevrijding krijgt Sabena een nieuw elan en wordt door de uitbreiding van vooral het Afrikaanse net zelfs winstgevend. Ondertussen is het vliegveld van Haren te klein geworden. Het wordt vervangen door Melsbroek en later door Zaventem. The sky is the limit. Maar hoe groter de luchthaven, hoe dreigender de toekomst.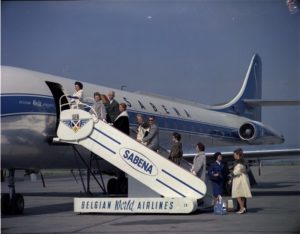 Bij de onafhankelijkheid van Congo blijkt Sabena een verkeerde koers te hebben gevolgd. Concurrerende luchtvaartmaatschappijen hebben op de internationale markt inmiddels belangrijke landingsplaatsen veroverd, waardoor de Belgische maatschappij het zeer moeilijk heeft om zich nog te positioneren. ( o.a. in de USA) Tot overmaat van ramp is er in 1967 de oprichting van Air Zaïre waardoor de toch al aanzienlijke schuldenberg van Sabena nog met ettelijke honderden miljoenen BEF vergroot. Het gaat van kwaad tot erger als de aandeelhouders onvoldoende geld willen pompen in het naar adem snakkende Sabena. De ironie van het lot wil dat de know how van de Belgische luchtvaartmaatschappij internationaal erkend wordt, dat de Sabeniens over de hele wereld gevraagd worden voor het onderhoud van de toestellen en de opleiding van personeel..
Tussen 1981 en 1994 proberen verschillende ministers van verkeer zoals Herman De Croo) en Sabena – directeurs zoals Carlos Van Rafelghem en Pierre Godfroid met hervormingen die vaak lapmiddelen blijken te zijn, het tij te keren maar Sabena raakt onherroepelijk in vrije val. Vandaar een wanhopige zoektocht naar partners. Om duistere redenen ( sommigen zien er de invloed van het Hof in) springen de onderhandelingen met Air France en KLM af en moet Sabena haar lot verbinden aan dat van Swissair. Dat blijkt een fatale fusie te zijn. (Histories, Exit Sabena, 7 november 2002)
Bekijk de aflevering hier: https://www.canvas.be/video/genre/educatief-geschiedenis/exit-sabena