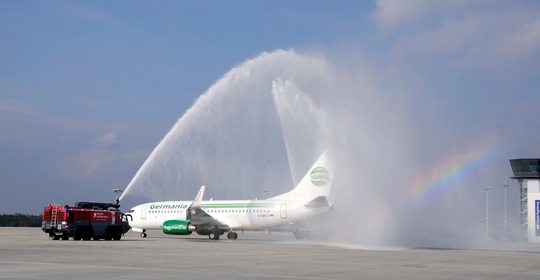 In the 2017 summer season, Germania will initially be connecting Dresden, Erfurt-Weimar, Münster/Osnabrück, and Nuremberg to Faro. This Portuguese town is known as the gateway to the Algarve and offers a range of opportunities for a relaxing holiday to families, sun seekers, and active holidaymakers alike.
"Faro is a travel hotspot: from there you can reach the Atlantic coast, mysterious caves, great beaches, and a cult food stall with the 'last bratwurst before America'. All in all, it's a location defined by vastness and a feeling of longing", said Claus Altenburg, Director of Sales at Germania Fluggesellschaft, at the season opening. "We are excited to develop Faro as a new destination and recommend a trip to the hinterland."
The airline with the green and white livery started flying twice a week from Dresden (Thursdays and Sundays) to the southern Portuguese town on the 30th March 2017. Direct flights will be offered from Erfurt-Weimar starting in April and from Nuremburg starting in May on Thursdays and Sundays. Monday flights from Münster/Osnabrück to the Algarve will start in May, while a second connection on Thursdays will be added in mid-June.
There are more than 100 amazing beaches along the southern Portuguese coast, diverse and beautiful. High waves crash about in the west, attracting experienced surfers. Active holidaymakers are enticed by the numerous hiking trails and cycle tracks. Families enjoy the wind protected beaches in the east. Golfers also get their money's worth in south Portugal.
One-way flights are avaiable from only 79 Euros. Tickets can be purchased at www.flygermania.com or by phoning +49 30 610 818 000 (normal landline charges apply to the German network, mobile phone charges may vary) and at selected travel agents. All prices mentioned include tax and fees as well as the legally required air travel surcharge.
BERLIN – 3rd April, 2017