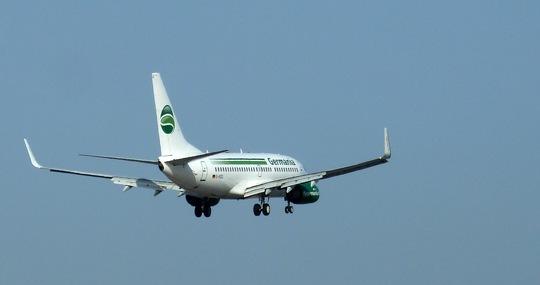 With the opening of a new base at Son Sant Joan Airport Germania will be launching its summer season in Palma de Mallorca on Friday, 19th of May. Airport management and guests from the travel and airline industry will welcome the arrival of the aircraft with the distinctive green and white livery. It will then spend its first night on the island, before going on to service with an extensive range of destinations.
Germania is the only German airline which offers all passengers to and from Mallorca complimentary snacks and soft drinks on board, as well as a 20kg baggage allowance. Throughout the entire summer season daily flights to and from Friedrichshafen, Münster/Osnabrück, Dresden, Bremen and Nuremberg will be available. Erfurt-Weimar, Rostock-Laage, and Dortmund will be connected with Palma de Mallorca several times per week. Flights to and from Cuxhaven-Nordholz will also be offered in autumn.
In addition to its routes to and from Germany, Germania has also established new flight connections between Mallorca and the European mainland: over the next few days, flights will start to take off to Maastricht in the Netherlands (as of 20/05), as well as to the French cities of Strasbourg (as of 22/05) and Montpellier (as of 23/05). Passengers can look forward to two weekly flights on these routes. The number of flights to Zurich in Switzerland, operated by Germania Flug AG, is also being increased to nine per week.
"Palma de Mallorca is Germania's largest departure airport. With 73 flights per week, our aircraft take off and land here more frequently than at any other airport in our network," says Claus Altenburg, Germania's Director of Sales, responsible for the route development. "If hoteliers and tour operators contribute to strengthening the low season on the island, we might extend our presence throughout the winter season."
To support the ongoing flight programme, Germania has created 30 new flight crew jobs in Palma.
BERLIN – 19th May 2017