Regional airline welcomes Roti Island Snake Neck Turtles on board Southampton to Dublin flight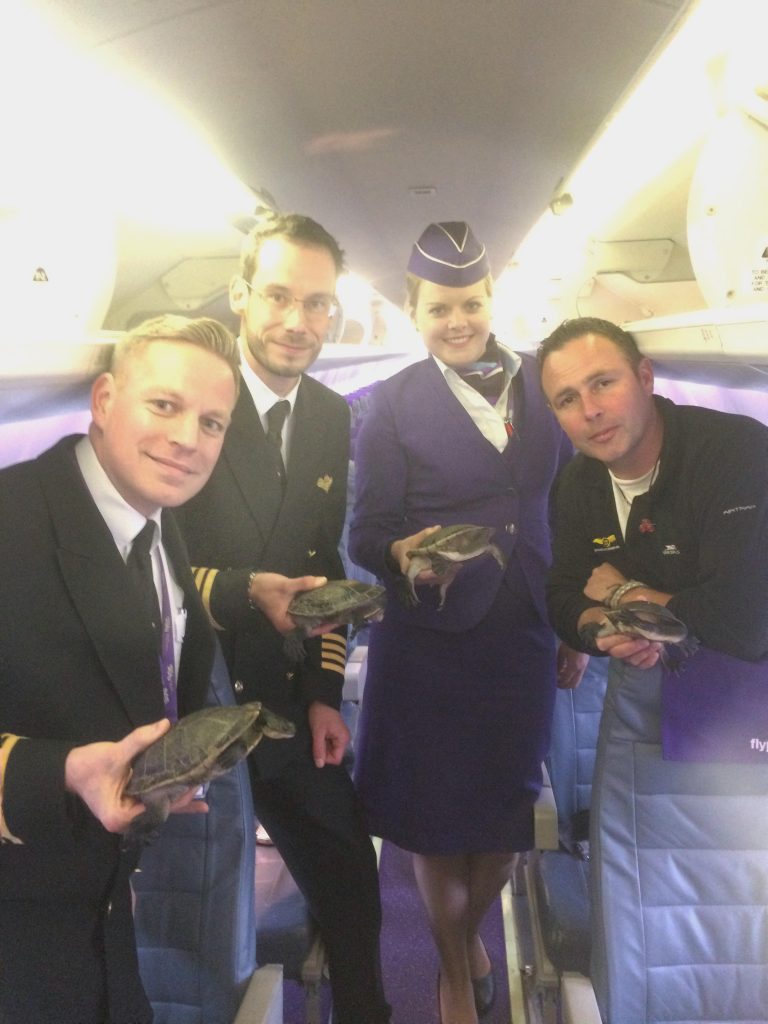 Flybe, Europe's largest regional airline, welcomed four very special passengers on board the 18:45 flight from Southampton to Dublin last Thursday as four critically endangered turtles took to the skies to complete their journey from ZSL London Zoo to The National Reptile Zoo in Kilkenny, Ireland.  Accompanied by Zoo Director, James Hennessy, the Roti Island Snake Neck Turtles delighted cabin crew and passengers prior to departure when they had the opportunity to take in the air and pop their distinctive long necks out of their boxes before taking off for the short one hour and twenty minute flight.
During the summer months, the National Reptile Zoo will house the turtles at their Lost World exhibit located inside Funtasia in Drogheda Co.Louth after which time they will permanently relocate to their new home location in Co.Kilkenny.
Roti Island Snake Neck Turtles (Chelodina mccordi) are red-listed as critically endangered. This species occurs in three separate populations covering an area of just 70 km² on Roti Island, a small Indonesian island that lies just 311 miles off the coast of Australia.
Flybe's cargo operation is no stranger to transporting rare species with previous special passengers having included ospreys, seals, Blondie the albino hedgehog who was flown to Guernsey; a sextet of rare Australian 'big belly' seahorses to the Deep Sea World Aquarium in Edinburgh and 10 stump-tailed macaques who travelled from Edinburgh to Southampton.
Flybe Director of Customer Care, Jonathan Breedon, said:
We are always pleased to help transport such precious cargo and so were happy to assist the National Reptile Zoo in ensuring that these VIP turtles could travel as quickly and safely as possible over to their new home Ireland.
National Reptile Zoo Director, James Hennessy commented:
As we are a conservation zoo, we are thrilled to be welcoming these critically endangered turtles to our Zoo and we would like to thank the team at Flybe for their support in making the transport of these turtles as easy and trouble-free as possible.