Leading regional airline CEO voices commitment to serving island communities in Scotland with more choice and lower fares on lifeline routes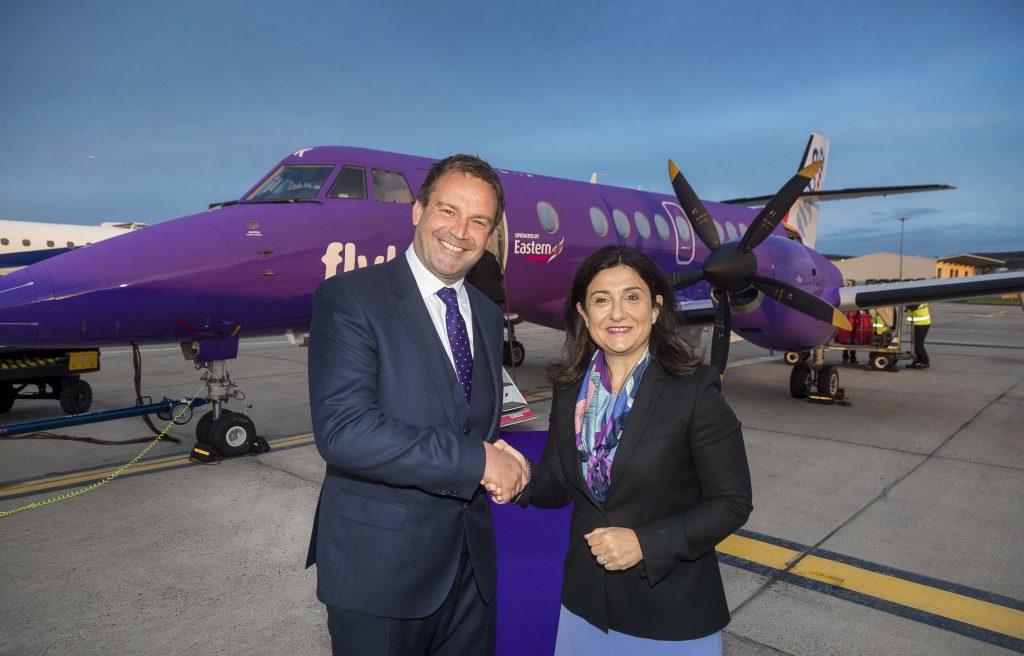 Island communities in particular will, from today (1st September 2017), enjoy the added benefits of extra choice, lower fares and a wealth of onward connections as Flybe's new joint venture flights with alliance partner, Eastern Airways, take to the skies for the first time in Scotland.
To further mark its longstanding commitment to serving the residents of Orkney, Shetland and Stornoway, Flybe's CEO Christine Ourmieres-Widener will this morning announce details of an exciting new local communities' initiative.
Europe's largest regional airline will provide a continuation of six branded Flybe routes now operated by Eastern Airways' aircraft from: Sumburgh to Aberdeen, Edinburgh and Glasgow, Aberdeen to Kirkwall and from Glasgow to Stornoway and Manchester, with frequency as follows.
The airlines' partnership will also see the Embraer 170 jet service operating on Shetland routes for the first time, shaving some 30 minutes off the recognised flight times.
FREQUENCY OF THE SIX ROUTES:
–       Aberdeen – Sumburgh & Kirkwall:      Up to 3 flights a day
–       Edinburgh & Glasgow – Sumburgh:    Daily flights
–       Glasgow – Stornoway:                           Up to 3 flights a day
–       Glasgow to Manchester:                       Up to four flights a day
One way fares are from £46.99 including taxes and charges.
Details of individual timetables are available at www.flybe.com
Flybe CEO Christine Ourmieres-Widener said:
We have looked forward to cementing our new relationship with Eastern Airways by continuing to offer lifeline services to connect the communities of Orkney, Shetland and Stornoway to mainland Scotland – and onwards.

Flybe is committed to continuing to serve Scotland and these particular six routes allow us to provide the genuine competition and lower fares that islanders have so long been calling for and we look forward to welcoming many new customers on board. The flights offer real benefits to business and leisure passengers. They will contribute to boosting Scotland's connectivity with more options to access a wider range of onward destinations both via our wider Flybe network, and beyond to important global markets through our many codeshare and interline partners.
Tony Burgess, Chief Operating Officer at Eastern Airways, added:
We are proud of what Eastern Airways has achieved over the last 20 years and I'm looking forward to the years ahead as we enter a new chapter through our alliance with Flybe. With four aircraft assigned that start flying from today, this will enable Flybe to provide a continuation of a number of its branded Scottish routes with the right sized aircraft to meet the forecast demand.
Today's inaugural routes mark the start of Flybe's expanding partnership with Eastern Airways that, with effect from 29th October 2017 under a five-year franchise partnership, will see Eastern Airways operate its scheduled route network under the Flybe brand.
Eastern Airways is a well-established UK based regional airline, whose head office is at Humberside Airport. It operates scheduled domestic and short haul international services and private charter services, with hubs at Aberdeen, Norwich, Durham Tees Valley, Newcastle, Southampton, Leeds Bradford, Cardiff and Paris.
To view videos from the launch head to www.youtube.com/FlybeOfficial