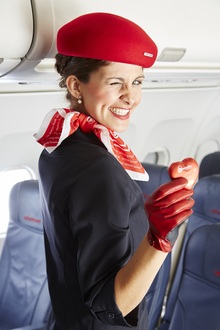 Since its launch two weeks ago, airberlin guests on short- and medium-haul routes have been able to enjoy Business Class, which has been very well received. Around 15,000 Business Class seats have already been reserved by airberlin passengers – and this number is trending upwards. 'The current booking figures show that the decision to introduce Business Class on our European flights as well was the correct one. In doing this, we have taken another important step towards becoming a network carrier,' said Stefan Pichler, airberlin CEO.
Currently, Business Class guests in the first row of seats on all short- and medium-haul flights can enjoy particularly generous leg room as well as a guaranteed empty middle seat. 'The reception of our Business Class has completely exceeded expectations. As a result, we are currently considering expanding the service into additional rows of seats in the near future. At the same time, we have also observed increased demand for Business Class flights on long-haul routes departing from Berlin and Dusseldorf, with feeder flights from German and European cities,' said Stefan Pichler.
There is particularly high demand for Business Class on domestic flights within Germany, as well as on flights between Zurich and the airberlin hubs at Berlin and Dusseldorf. 'As of mid-November, we will offer three connections a day between Dusseldorf and Geneva. We are also expecting a high acceptance of Business Class on this flight connection. We have many transfer passengers departing from Zurich and Geneva, changing at Dusseldorf to long-haul flights in our comfortable FullFlat-Business Class fare, and now we are able to offer a seamless travel experience,' Stefan Pichler explained.
For guests in Business Class, the personal service on board includes a refreshing organic smoothie made by the excellent, Berlin-based organic fruit products manufacturer Proviant. Guests can choose snacks and drinks from an extensive menu for free, as well as a warm meal on flights lasting longer than 90 minutes. A cosy pillow also provides additional comfort.
Business Class travellers are also entitled to bring two pieces of baggage weighing up to 32 kg, as well as two pieces of hand luggage, each weighing up to 8 kg. The fully flexible Business Class tickets can be rebooked or refunded free of charge, and reservations for aisle or window seats can also be made for free. The other benefits include check-in at a Priority Check-in desk, use of the fast lane for security screening, and access to lounges and exclusive waiting areas at airports on the airberlin route network, for example.
Participants in the airberlin frequent flyer programme, topbonus, will be awarded 300 per cent of the distance miles for every short- and medium-haul flight in Business Class until 31 December of this year, as part of a special offer. topbonus miles may be used for upgrades to Business Class, subject to availability.
23 October 2016