Four daily flights from Berlin, starting end of March 2017
Codeshare with Czech Airlines for the Dusseldorf – Prague route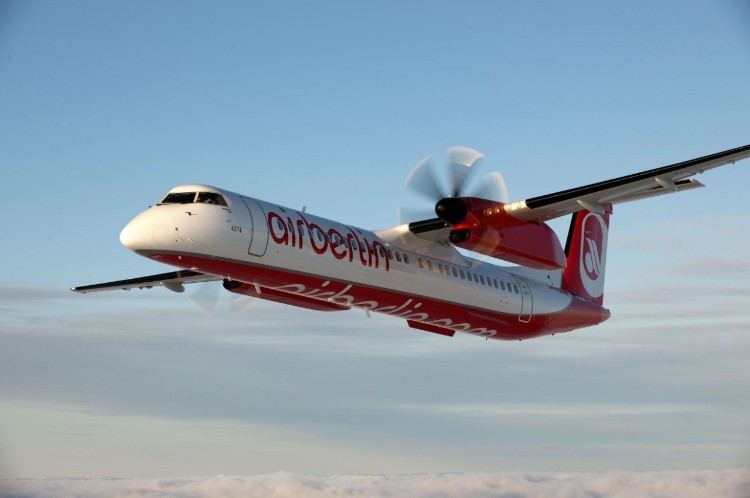 Starting end of March 2017, airberlin will offer four flights daily (28 per week) from Berlin-Tegel to Prague. In so doing the airline will double the frequency of its services compared to the previous summer from two to four flights per day. Due to the additional flights, passengers will have a far greater number of flight connections to choose from.
"Expanding our flight offerings between Berlin and Prague is a logical consequence of our new network strategy of strengthening our hubs. The fourth daily flight, which starts at the end of March 2017, will mark the first time that passengers have been able to catch connecting flights to and from San Francisco and Los Angeles. Under our winter schedule, we are already flying up to three times per day. Over 60 per cent of our passengers are transfer passengers who take a connecting flight in Berlin. We see significant potential for increasing this opportunity even further", says Stefan Pichler, CEO of airberlin.
"We welcome the increase in airberlin's number of connections between Václav Havel Airport Prague and Berlin Tegel Airport. The new flights will broaden the offer of regular scheduled connections between the two cities for passengers and at the same time shorten transfer times to connecting flights around Europe and to North America," said Václav Řehoř, Chairman of the Czech Aeroholding Board of Directors.
All long-haul destinations offered by airberlin from Berlin-Tegel will be connected with flights to and from Prague, starting in the summer of 2017: Abu Dhabi, Chicago, Los Angeles, Miami, New York and San Francisco. Travellers passing through Abu Dhabi can take Etihad Airways or other codeshare partners to reach numerous destinations. Thus in the future, Prague will be just one stop away from airberlin's entire German and European route network. Passengers will have better connections to and from Dusseldorf, Stuttgart, Vienna and Zurich, as well as, Copenhagen, Milan, Rome, Stockholm and Warsaw.
Furthermore, airberlin offers two daily flights between Prague and Dusseldorf as part of the codeshare agreement with Czech Airlines, ensuring that airberlin flights via Dusseldorf to Europe, the US and the Caribbean are also smoothly connected with Prague.
A Bombardier Dash Q400 with 70 seats in Economy Class and three seats in airberlin's new European Business Class will be used for the new route. Tickets can be booked online at www.airberlin.com, through travel agents or by calling the 24-hour airberlin Service Center at 01806 334 334.
24 November 2016