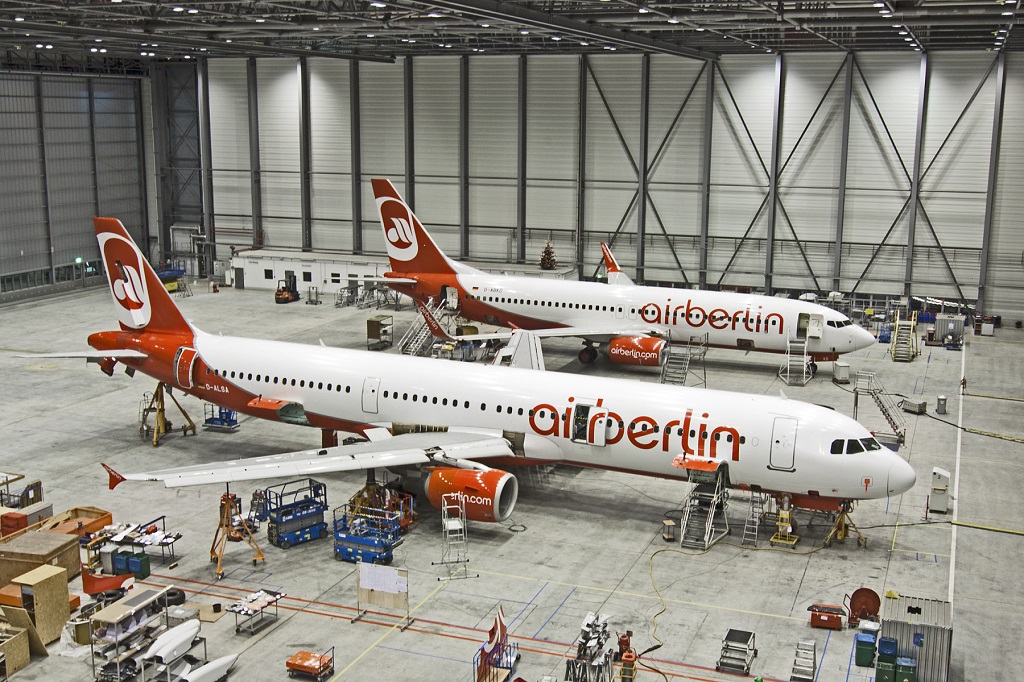 Air Berlin filed for insolvency after leading shareholder Etihad Airways withdrew its financial support, marking the second failure of a major European airline in four months after the Persian Gulf carrier pulled the plug on funding Italy's Alitalia in May
Germany's struggling airline Air Berlin on Tuesday 15 August said it had filed for insolvency proceedings under self-administration at the local District Court (Amtsgericht) of Berlin-Charlottenburg, in order to continue with the restructuring process that is already underway, after its main shareholder Etihad Airways said it "would not provide any further financial support".
According to German television broadcaster N-tv, the airline will continue to operate during the insolvency process. Lufthansa is now in talks to buy up parts of the company, Air Berlin said in a statement. CEO Thomas Winkelmann confirms:
"We are working tirelessly to achieve the best possible outcome for the company, our customers and employees, given the situation.
The German government was providing a €150 million bridging loan to keep the airline flying, with jobs for 7,200 workers, likely until November – past the busy summer season and the German general elections. This means:
• All flights operated by airberlin and NIKI will continue as planned
• The flight schedule remains valid
• Bookings remain valid
• All flights can still be booked
CEO Thomas Winkelmann confirms:
All flights operated by airberlin & NIKI will continue as planned and our flight schedule remains valid! pic.twitter.com/gbR1vSqMg4

— airberlin (@airberlin) August 15, 2017
German rival Lufthansa said in a separate statement it was in talks with Air Berlin to take over parts of the group. These negotiations with Lufthansa and other partners regarding the acquisition of business units of airberlin are far advanced and highly promising and may be finalised shortly.
Air Berlin customers have been hit by delays and cancellations over recent months as the airline has struggled to remain solvent.
In June Air Berlin insisted it wasn't about to go bankrupt.
"Insolvency is not an issue for us. We have sufficient liquidity and a reliable partner, Etihad, which has pledged its support through to October 2018," a spokeswoman for the airline told AFP at the time.
The Berlin-based airline booked losses amounting to €1.2 billion for the last two years and has depended on cash infusions from key shareholder Etihad for survival. The failure of Air Berlin is a major setback for Etihad, which has invested just over €1.8 billion in the carrier since 2011, according to an Etihad source who asked to remain anonymous.
Etihad statement on airberlin
We have been informed that airberlin has filed for administration.

This development is extremely disappointing for all parties, especially as Etihad has provided extensive support to airberlin for its previous liquidity challenges and restructuring efforts over the past six years.
In order to continue with its restructuring, airberlin has filed a provisional insolvency proceeding in self-administration at the local court of Berlin-Charlottenburg today.
Lufthansa is supporting the restructuring efforts of the airline jointly with the German Government. This also ensures that all aircraft that are currently operated by airberlin under a wet lease agreement for Eurowings and Austrian Airlines will continue operating as before.
Lufthansa is already in negotiations with airberlin to take-over parts of the airberlin Group and is exploring the possibility of hiring additional staff. Lufthansa intends to conclude these negotiations successfully in due time.
New from the blog: Air Berlin files for bankruptcy protection – https://t.co/ku3glGcZdT pic.twitter.com/Fli40RtIrC

— Seth Miller (@WandrMe) August 15, 2017