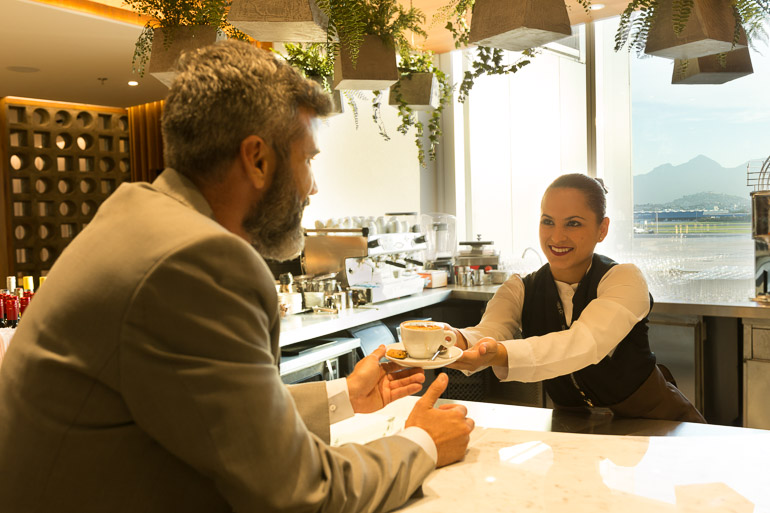 Star Alliance opened its new exclusive Alliance Lounge at Rio de Janeiro's Galeão – Tom Jobim International Airport (RIOgaleão). The brand new facility is located on level 3 of the new international departures pier in terminal 2 and is accessible to eligible Star Alliance customers 24 hours a day, 365 days per year.
The 600 plus square metre facility offers seating for more than 150 guests and provides beautiful views across the airport and beyond, with key Rio de Janeiro landmarks – Sugar Loaf and Christ the Redeemer – visible in the distance.
"This new facility is the latest addition to our line-up of Star Alliance branded lounges, and the only alliance lounge available in RIOgaleão airport," said Star Alliance CEO Mark Schwab. "The Star Alliance lounge concept has proved hugely popular with the many customers who want to relax before their flight in an exclusive area that has been specifically designed to meet the needs of today's international frequent traveller."
In line with the design concept of Star Alliance lounges, local touches and flavours have been combined with global branding elements. Brazilian natural woods, stone and concrete elements have been used to reflect the architectural heritage of the city while introducing greenery and moments of colour that accentuate the city's close relationship with nature. Handmade Brazilian furniture pieces from renowned designers add a special touch to the overall design and feel, which can best be described as exclusive and at the same time welcoming. The lounge was designed by Hong Kong based architecture firm MSA, which was appointed by Plaza Premium, the company which will operate the lounge for Star Alliance.
"We have the honour and pride to partner with Star Alliance and run the sixth exclusive Alliance Lounge world-wide for them at Rio de Janeiro, providing high quality service and a seamless airport experience to passengers of their member airlines. We hope to be furthering our partnership with Star Alliance in providing more unique and passenger centric lounge experience together in more airports around the world," said Mr. Song Hoi-see, Founder & CEO of Plaza Premium Group.
A highlight of the new Rio lounge is the fully serviced bar where customers can enjoy premium barista coffee and drinks including a signature cocktail made to order as well as light refreshments. A full buffet provides a range of hot and cold options with uniquely Brazilian flavours. A live cooking station further enhances the dining experience for guests with some items from the menu prepared to order by a chef.
Complimentary wi-fi access is available throughout the lounge with numerous power and USB sockets allowing customers to charge their electronic devices. Secure luggage storage lockers with device charging features and a private work station round off the offer.
Toilets are located inside the lounge and passengers wishing to freshen up before their flight can do so in one of the three ensuite shower rooms.
A total of six Star Alliance carriers offer 370 flights a week to and from RIOgaleão Airport: Avianca, Avianca Brazil, COPA, Lufthansa, TAP and United. These provide connections to 16 destinations in seven countries.
Providing lounge access to passengers travelling on Star Alliance flights in either First or Business Class or to those holding Star Alliance Gold status is one of the benefits which the Alliance provides on a global scale. In line with this, the Star Alliance Lounge in Rio welcomes passengers travelling on a member carrier flight in either First or Business Class or Star Alliance Gold status as well as Air Canada Maple Leaf worldwide card holders and United Club members travelling in Economy Class. First Class passengers and Star Alliance Gold status customers are entitled bring along one guest.
In addition to the Rio lounge, Star Alliance has dedicated lounges in Buenos Aires (Ezeiza), Los Angeles (TBIT Terminal), Nagoya, Paris (CDG) and São Paulo (Guarulhos). These form part of the Alliance's global lounge offer of more than 1,100 locations, comprised of lounges operated by its member airlines and third party providers.
Note: The Rio lounge also grants access to customers of tap|corporate card and to those travelling on Edelweiss Air (sister carrier of SWISS) in Business Class or holding Star Alliance Gold status.
Rio de Janeiro, Brazil, December 09, 2016