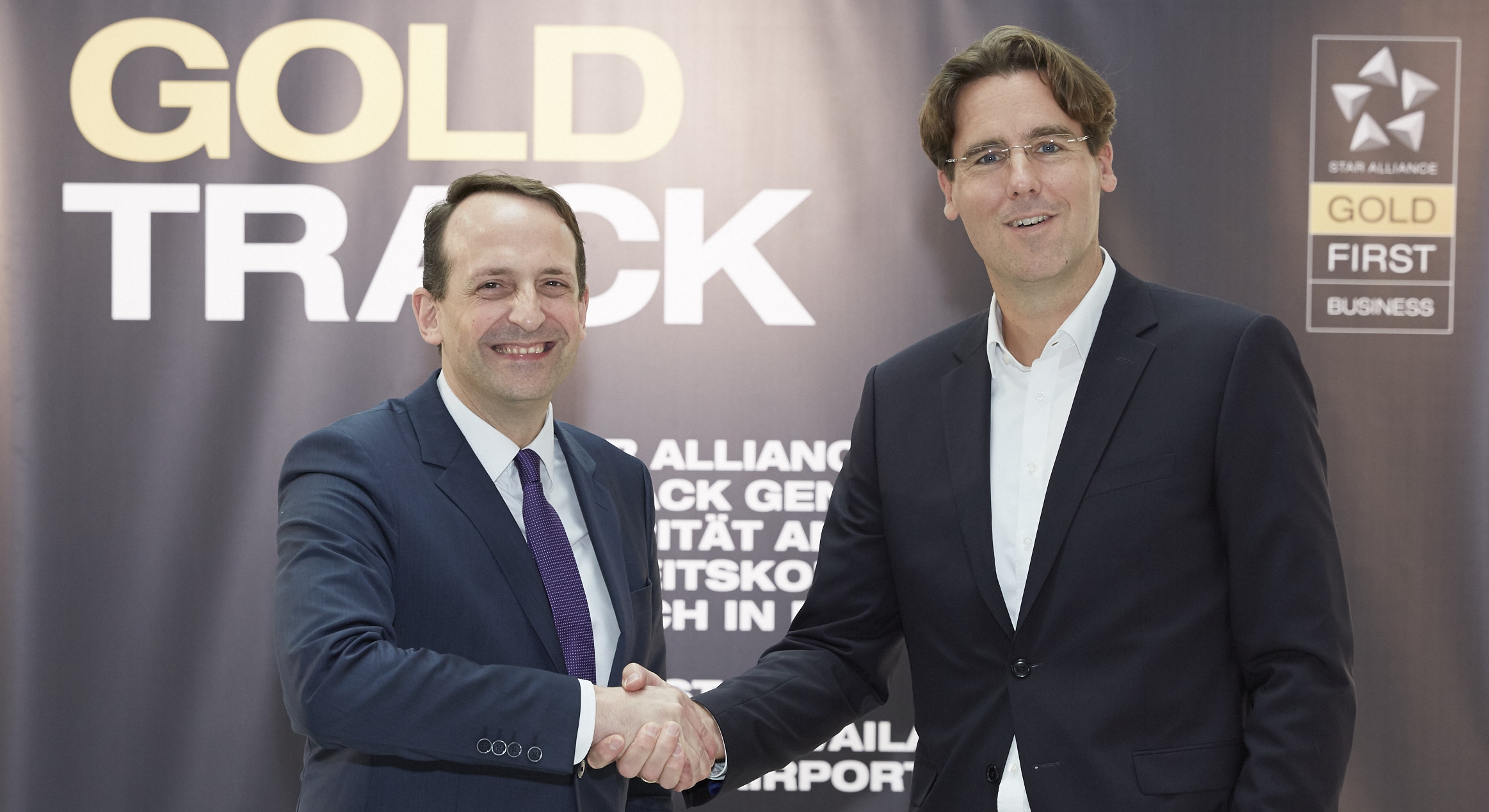 Star Alliance's Gold Track security, the latest Alliance product to assist frequent travellers in moving quickly through airports to board their flights, is now also on offer in Frankfurt, the Alliance's biggest transfer hub.
With the support of the airport authority Fraport and home hub carrier Lufthansa, distinctive branding now marks Gold Track security lanes throughout Terminal One. Gold Track offers priority at security to Star Alliance customers travelling in First Class or Business Class, or to Star Alliance Gold status holders regardless of their class of travel on their Star Alliance member airline flight.
Providing frequent international travellers with a smooth travel experience on multi-airline routings has been a hallmark of Star Alliance since its founding nearly 20 years ago.
In addition to some to fundamental travel advantages, such as through check-in and mileage accrual and redemption, the Alliance has introduced numerous world-wide benefits for travellers who have qualified for the top tier levels in the frequent flyer programmes run by its member airlines.
These Gold Benefits are available on a world-wide basis and on all member airlines. Gold Track security is the newest addition and is currently on offer at more than 130 airports worldwide, with new locations being added every month. Its companion product, Gold Track immigration, giving priority at border document check, is currently available in 10 locations.
In the last 12 months, over 47 million passengers departed or arrived in Frankfurt airport on a Star Alliance member carrier flight. Every day, an average of more than 8,000 passengers transferred between member carriers.  The airport is served by 21 Star Alliance member airlines offering 852 flights per day to 182 destinations in 76 countries.
Gold Benefits Overview
•    Priority check-in: Avoid the queues at check-in by going to the Priority counters. Just look for the Star Alliance Gold sign.
•    Extra baggage allowance: Take an extra piece of luggage with you at no charge or get an additional 20 kilogrammes (44 pounds) where the weight concept applies.
•    Airport lounge access: Escape the crowds in over 1,100 lounges world-wide when you fly on a member airline flight.
•    Priority reservations waitlist: If there are no seats on your preferred flight, your status puts you higher on the waiting list.
•    Priority stand-by: If your travel plans change and flights are full, your status gives you higher priority on the standby list for the flight.
•    Priority boarding: Board at your convenience at the same time as First Class and Business Class passengers.
•    Priority baggage handling: Your bags are among the first on the belt, so you can move on quickly.
•    Gold Track: Use the dedicated priority-lanes at security and immigration.
Note: some exceptions and restrictions apply
Frankfurt, Germany, November 18, 2016