London Heathrow and Star Alliance take joint accolade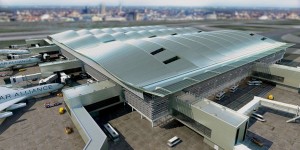 London Heathrow and Star Alliance have won the World's Airport of the Year at Air Transport World's (ATW) 41st Annual Airline Industry Achievement Awards, honoured jointly for their collaborative work on the new Terminal 2 at Heathrow. The accolade was presented to Andy Garner Director Airline Business Development, London Heathrow, and Mark Schwab, Star Alliance CEO, at the Omni Shoreham Hotel in Washington, D.C. last night (25 February).
"London Heathrow Airport truly stood out for its exceptional project in the redesign of Terminal 2 and its demonstration of what can be achieved when airports and airlines work together. Heathrow and Star Alliance have produced a marvellous facility that is a win, win for its passengers in every respect," ATW Editor-in-Chief Karen Walker said.
The award is one of the first bestowed on the new Terminal 2 | the Queen's Terminal which opened on June 4th, 2014. The purpose-built, state of the art facility was jointly conceived by Heathrow Airport, Star Alliance and its member carriers with the aim of establishing a true seamless hub at one of the world's premier international airports. The building was designed by Spanish Architect Luis Vidal to be simple and intuitive, with a bright and airy atmosphere. The 2.5 billion GBP investment is part of an overall upgrade to Heathrow Airport, which has cost a total of 11 billion GBP over the last five years.
Mark Schwab commented: "In June last year we rang in a new era for our customers, member carriers and employees at London Heathrow. Feedback we have received so far confirms that we offer our customers a superior travel experience, are creating new business opportunities for our member carriers and providing an improved working environment for employees. It is great to see our joint efforts culminate in receiving the prestigious Air Transport World Airport of the Year Award; the first time ever that this award is being given jointly to an airport and an airline alliance."
Andy Garner said: "We are absolutely delighted to win this coveted award. This is a very valuable accolade within the airline industry and our success is the result of a strong collaboration with over 180 organisations, particularly Star Alliance, to deliver such a complex project. Our passengers are pleased with the result – our airport service quality scores show that if Terminal 2 was an airport in its own right we would have the best customer service scores in Europe. We couldn't be more proud of what we have achieved so far and this award is a step towards fulfilling our ambition to become one of the best airports in the World."
Being able to operate from a single terminal at Heathrow ensures that Star Alliance member carriers can offer their more than 12 million passengers using the airport on an annual basis a vastly improved travel experience, including shorter connecting times. The latest technology is used throughout the terminal to give passengers control of their journey. The check-in area has been specially designed for speed and efficiency. Airlines are grouped in zones, while a row of 81 common use self-service kiosks can be used by any passenger to check in and/or print a bag tag before handing their luggage to an agent at the fast bag drop. Full-service traditional check-in desks are provided for the use of First Class, Business Class and Star Alliance Gold passengers. This passenger group also has a Gold Track option to speed them through the security checks.
Eight out of 12 gates at the T2B satellite allow self-boarding, meaning passengers simply pass through a mechanical barrier to board their flight.
Three airline lounges are currently available for premium passengers, including those with Star Alliance Gold status. These are located in the main terminal building and the satellite, so eligible passengers can relax close to their gate. A fourth lounge is due to open in the coming months.
The terminal also houses some of the best in British retail, including John Lewis, Cath Kidston and Mulberry.
The Star Alliance airlines serving Heathrow are Aegean Airlines, Air Canada, Air China, Air India*, Air New Zealand, ANA, Asiana Airlines, Austrian, Avianca, Brussels Airlines, Croatia Airlines, EGYPTAIR, Ethiopian Airlines, EVA Air, LOT Polish Airlines, Lufthansa, Scandinavian Airlines, Singapore Airlines, South African Airways, SWISS, TAP Portugal, Turkish Airlines, THAI, and United.
Together they operate over 121 flights per day to 47 destinations in 26 countries. Each of these flights acts as a gateway to the full Alliance network of more than 18,500 daily flights to 1,321 airports in 193 countries.
WASHINGTON, D.C., USA – February 26th, 2015