The suggested flight path for departures at Lelystad Airport, the biggest general aviation airport in the Netherlands and owned by Schiphol Airport will have huge consequences for Teuge Airport and its important "Nationaal Paracentrum Teuge" (skydiving center). Teuge Airport, that employs around 250 people in 30 different companies is forced to cease operations.
As the flight path for departing traffic at Lelystad Airport will fly right over Teuge Airport, skydiving or parachuting will not be possible anymore. Teuge Airport will then be put under severe financial pressure.
The final decision may be revised if at least 40.000 people sign a petition via https://voortbestaanteuge.petities.nl/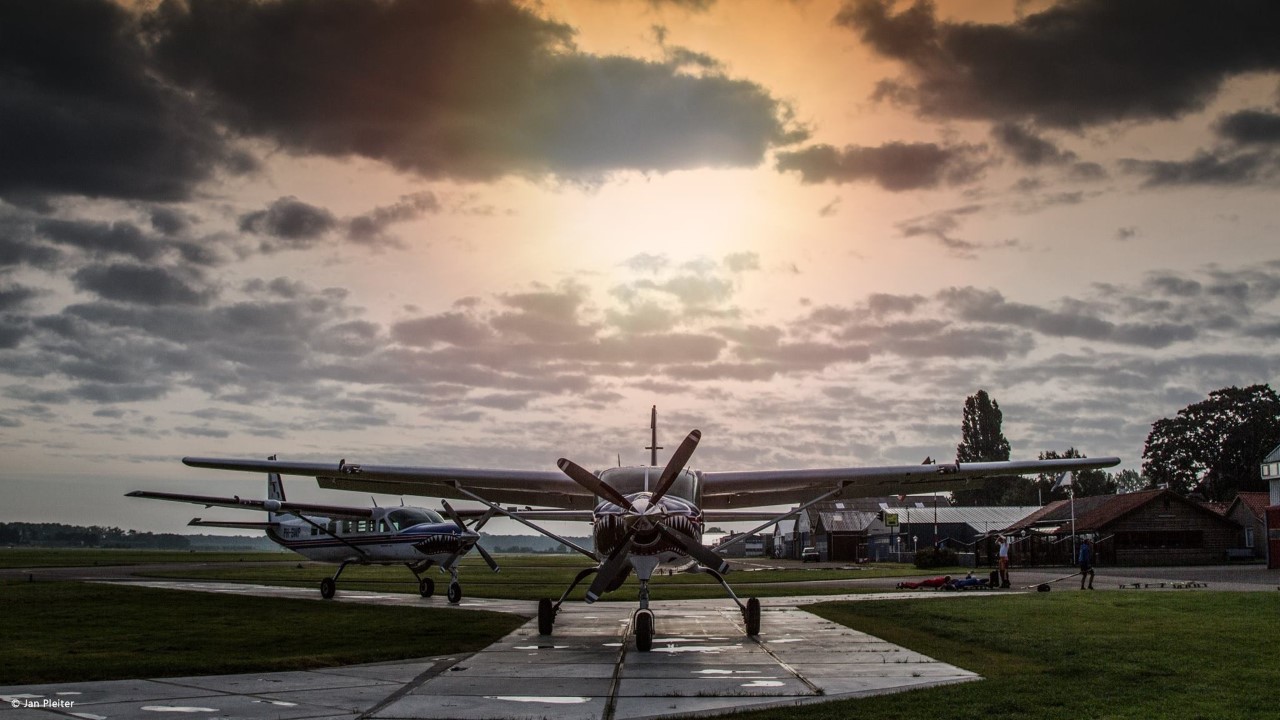 De voorgestelde uitvliegroutes van de nieuwe passagiersluchthaven Lelystad Airport hebben grote gevolgen voor de werkgelegenheid en recreatie in Gelderland. Het Nationaal Paracentrum Teuge, goed voor 50% van de omzet van de luchthaven Teuge, zal haar deuren moeten sluiten. Voor de luchthaven Teuge, met zo'n dertig bedrijven en werkgelegenheid voor ruim 250 mensen, betekent dit het einde van het bestaan.
Grote consequenties
Mét de luchthaven Teuge en het Nationaal Paracentrum Teuge hebben vele organisaties vol onbegrip gereageerd op de brief die staatssecretaris Dijksma aan de Tweede Kamer heeft gestuurd. Hierin schrijft zij dat één van de uitvliegroutes van Lelystad-Airport recht over de luchthaven Teuge gaat lopen. Het laag overkomen van verkeersvliegtuigen heeft tot gevolg dat er geen parachutesprongen meer gemaakt kunnen worden vanaf Teuge, waardoor de luchthaven onder grote financiële druk komt te staan, met een mogelijk faillissement tot gevolg. Hierdoor zullen niet alleen veel banen verdwijnen, maar verliest Gelderland ook een belangrijke toeristische voorzieningen met 160.000 actieve en passieve recreanten.
Verzet
Het provinciebestuur van Gelderland en de gemeentebesturen van Apeldoorn, Deventer, Voorst en Zutphen, hebben ontstemt op het voorstel van de staatssecretaris gereageerd. De op de luchthaven Teuge gevestigde organisaties en bedrijven, als ook luchtvaartorganisaties KNVvL, AOPA en NACA verzetten zich hevig tegen de keuze van de staatssecretaris om de route, zonder enige vorm van overleg met betrokkenen, direct over Teuge te leggen.
Petitie
Het Nationaal Paracentrum Teuge en de luchthaven Teuge, hebben het initiatief genomen de Tweede Kamer door middel van een petitie te verzoeken de staatssecretaris te vragen haar keuze voor de uitvliegroutes van Lelystad Airport te herzien. Hiervoor zijn 40.000 handtekeningen nodig. Iedereen die de petitie wil steunen, kan dat doen door deze te ondertekenen op https://voortbestaanteuge.petities.nl/.
Meer informatie
Het laatste nieuws en alle persberichten zijn te lezen op facebookpagina https://www.facebook.com/VliegroutesoverTeuge/
Deze actie wordt mede ondersteund door luchtvaartorganisaties KNVvL, AOPA en NACA. Alle ondertekenaars van de petitie worden van harte bedankt voor hun steun.