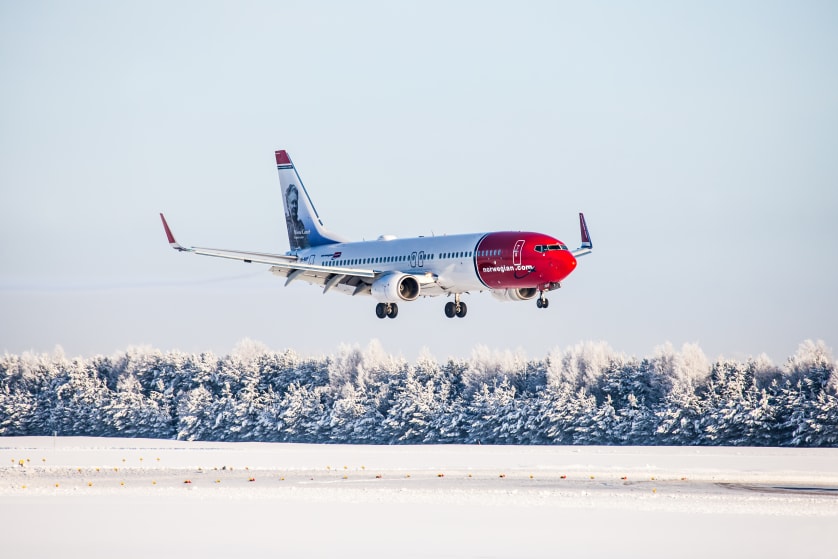 The fantastic route season at Finavia's airports in Lapland began when the first international scheduled routes of the winter from Europe to Kittilä and Rovaniemi opened on 2 December.
From the point of Finavia and tourism in Lapland, this will be a real super winter, kicked off by the first flight by Norwegian from London to Rovaniemi. It was immediately followed by Monarch flights from Manchester and London to Kittilä.
In addition, there will be new routes operated by Germania and Lufthansa, which has substantially increased its flights to Lapland, encouraged by the good experiences of last winter.
This winter, there will be a record number of flights. In December alone, there will be 48 direct scheduled flights from the UK, Germany and Switzerland. A total of 503 charter flights have been entered in the charter lists for December, most of them coming to Lapland from the UK. Some 401 domestic flights are expected to arrive in Lapland in December.
"In all, almost a thousand flights will land in Lapland in December. That is a big number. The planes will be full of enthusiastic travellers prepared to enjoy the magnificent tourism opportunities of the north. Our close cooperation with the tourism industry is now bearing fruit", says Director Joni Sundelin from Finavia.
International scheduled and charter flights are extremely important for the airports in Lapland, which is why Finavia is determined to increase the volume of air travel in Lapland. International traffic also improves the operating conditions for domestic traffic by increasing the passenger volumes at airports.
Is the super winter just the beginning?
There is power in cooperation. For example, both Visit Rovaniemi and Visit Finland have been working with Finavia in order to establish the London–Rovaniemi route.
"In Rovaniemi, the official home town of Santa Claus, the tourist season now looks extremely good. We see a lot of potential with the new London–Rovaniemi route, because the UK is an important market area, not only during the festive season, but throughout the winter. We are pleased with the good cooperation with Visit Finland and Finavia", says Sanna Kärkkäinen, CEO of Visit Rovaniemi.
In the Kittilä region, there has been cooperation with Visit Finland as well as tourism operators in the Levi and Ylläs regions. The development of routes to Ivalo Airport has also been supported by tourism operators from Inari and Saariselkä.
As a whole, Lapland is now the focus of many airlines' attention.
"It seems that this super winter will be just the beginning. Next, Lapland will be well placed to receive plenty of Chinese tourists when the extensive plans of Alitrip, a local tour operator, get off the ground. This winter, they will bring thousands of Chinese passengers to our airports in Lapland via Helsinki Airport, and these numbers will multiply several times over for next winter", Sundelin says, pleased with the developments.
How Finavia invests in route development
The selection and routes of the available flight connections depend on many factors. Functional flight connections are based on sufficient demand, created by the needs of tourism or business, for example.
This is why tourism operators have an important role in promoting the attractiveness of different regions. Routes with low demand are not sufficiently profitable for airlines.
"At Finavia, we are working hard to have a comprehensive route selection, and we have frequent international marketing campaigns for our airports. Even by international standards, our airport network is very good, our pricing regime for airlines is very competitive, and we can offer them attractive start-up packages for different route alternatives", Sundelin says.