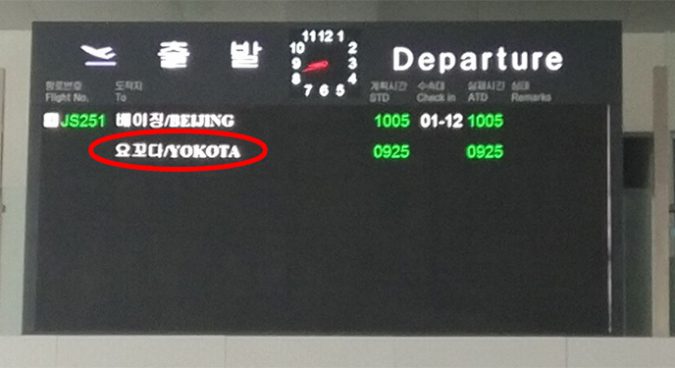 A flight departed on Thursday morning from Pyongyang Sunan International Airport headed for the United States Air Force Base in Japan, a photo shared with NK News showed.
Direct flights from North Korea to Japan are extremely rare, especially those to U.S. military bases. The flight, which was scheduled to depart at 09.25 am, appears to have been on a chartered route with no number listed – and does not appear on the NK Pro aviation tracker.
A source who shared the photo said they believed the flight may have contained the Canadian citizen Lim Hyeon-soo, who was released on Wednesday by North Korea in a surprise move announced by the Korean Central News Agency (KCNA).
"Rim Hyon Su, (Lim Hyeon Soo) a Canadian civilian, was released on sick bail according to the decision of the Central Court of the DPRK on August 9, 2017, from the humanitarian viewpoint," KCNA reported in Korean. The source who shared the photo, and who wished to remain anonymous due to the sensitivity of speaking to media from North.
Source: www.nknews.org