On the Ascension Day Thursday 10 May 1945 between 0730 and 0800 hours, the Short Stirling LK147 from 196 Squadron took off from Sheperds Grove in Suffolk, Great Britain, to join the main stream of aircraft heading for Norway. The four-engine bomber had a crew of 6 men, and onboard there were 14 soldiers from the Border Regiment. Their mission was to support the Liberation of Norway after 5 years of occupation.
It was 10/10 cloud and rain across Gardermoen that day, and the aircraft experienced difficulties. At about 1200 hours the aircraft crashed into the ravine just on the border between Nannestad and Ullensaker Municipality, approximately 1,5 km south of the western runway at Oslo Gardermoen. All the 20 men onboard perished momentarily.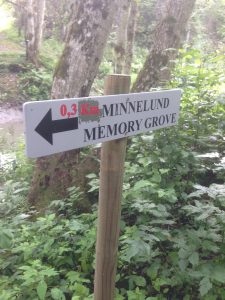 In May 2012 a large commemoration was arranged at the crash site, organized by the Ullensaker local history group, Ullensaker and Nannestad Municipality, the Foundation Military Forum Eastern Norway and the Royal Norwegian Air Force at Gardermoen. Over 30 relatives from Great Britain and Australia, siblings, children and grandchildren, came to Norway to attend the memorial service. Everyone came to Gardermoen for the first time, 67 years after the accident.
In case you would like to visit: If you follow the marked path down to the ravine, you will see for yourself where the aircraft crashed. A white picket fence, that once surrounded the cemetery where the 20 men were buried until November 1945, has been reconstructed by the Ullensaker local history group.
Pieces from the large aircraft are still there, spread out in the terrain, as a reminder of the ultimate sacrifice that the 20 men gave.
Location: 1,5 km South of runway 01L; Gardermoen, Oslo