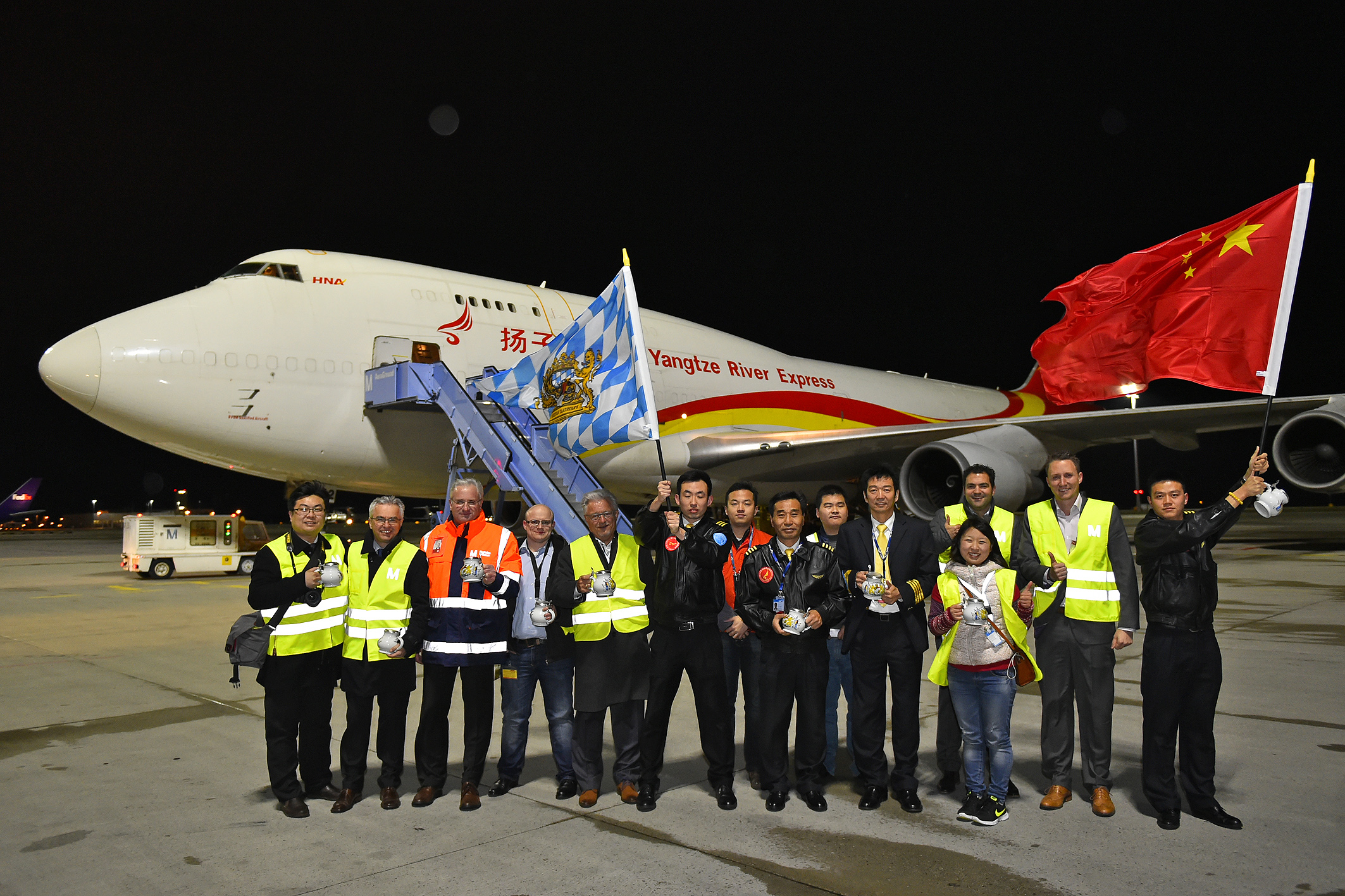 With the launch of a new service on March 31, 2015 by the Chinese cargo airline Yangtze River Express, headquartered in Shanghai, Munich Airport now offers five weekly cargo flights to China. The Boeing 747-400 freighter will arrive in MUC on Tuesdays and Thursdays from Amsterdam and on Wednesdays, Fridays and Saturdays from Brussels before departing for China, landing first in Tianjin and then continuing to Shanghai. The opening of the new route was marked by a special ceremony at Munich Airport on Tuesday evening. The commitment of Yangtze River Express to the Bavarian hub will give an added push to the airport's cargo segment, which in 2013 set a new all-time freight turnover record of 290,000 tons – a hefty 8 percent gain over the previous year's total.
Handling services for Yangtze River Express at Munich Airport will be provided by the airport's ground handling subsidiary AeroGround Flughafen München GmbH. In cooperation with its affiliated companies aerogate and Cargogate, AeroGround is the only single-source provider in Munich offering the full range of airside and landside handling services for passengers, aircraft and cargo. A key element of this concept is the central sales function of AeroGround, which has handled allsales and marketing activities for the three ground handling companies AeroGround, aerogate and Cargogate since 2013.
AeroGround has signed a full handling agreement with Yangtze River Express to run until 2018, covering both cargo and aircraft handling at Munich Airport. AeroGround has also announced the extension of its contract with long-standing customer Emirates Airlines through to 2019. The renowned carried from the Persian Gulf region operates two weekly services connecting Munich with the desert metropolis of Dubai with a double-deck Airbus A380.
Press release Munich Airport 1/04/2015