The team consisting of ALA Architects, HKP Architects and Ramboll Finland has won an invited competition for the renovation and expansion of Helsinki Airport's Terminal 2 with their entry titled "City Hall." Organized by Finnish airport operator Finavia, the competition asked four international firms to create a new airport plan centered around a reenvisioned terminal that will allow the airport to efficiently serve up to 20 million passengers per year.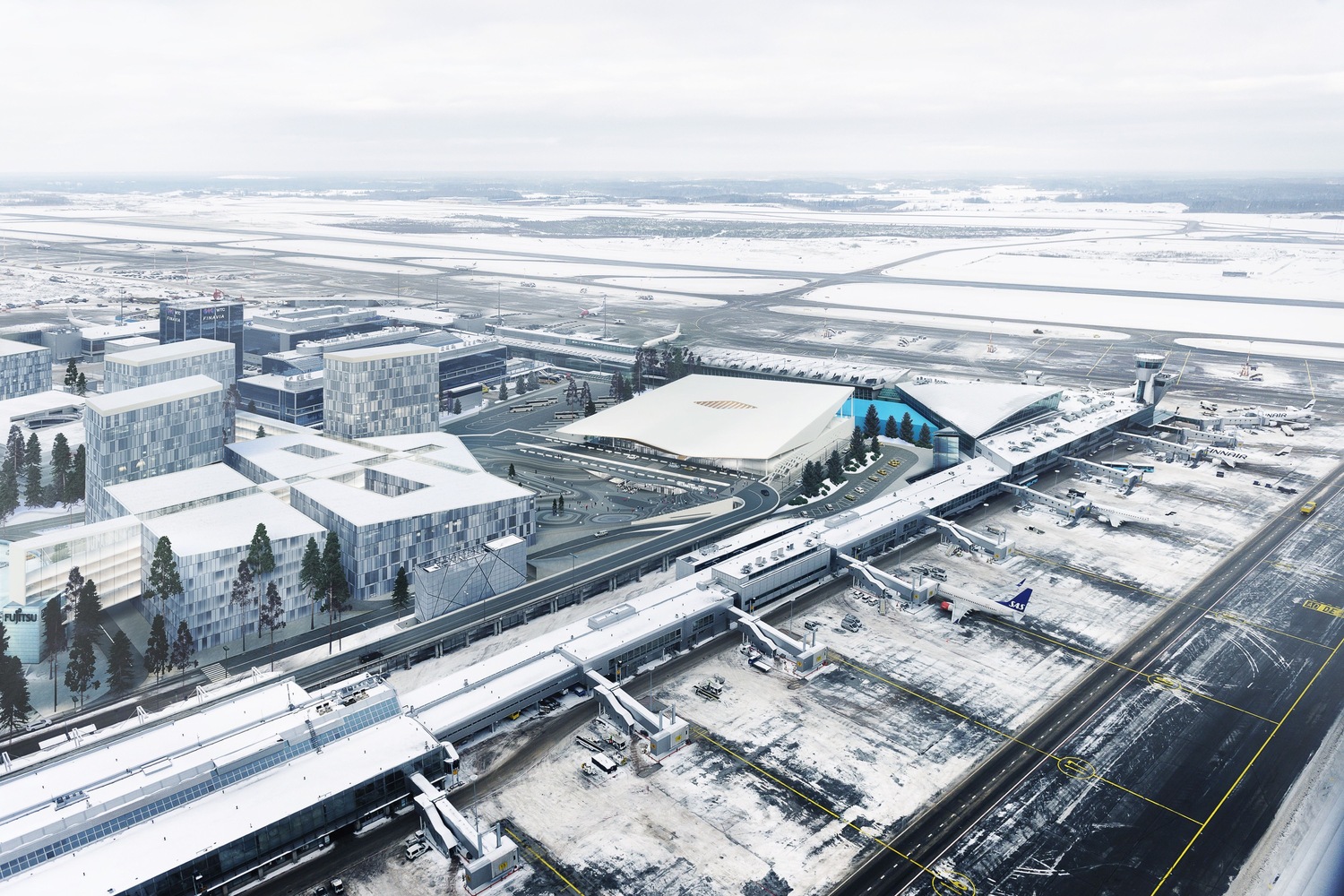 The winning scheme achieves these goals by creating an undulating public terrain which connects a new public plaza with the departure and arrival halls, simplifying passenger circulation through the airport, and a matching flowing wooden ceiling that references Finnish sculpture and the country's rugged Lappish scenery.
The terminal expansion consists of two main building volumes: "City Hall," the check-in and arrival hall; and "Security Box," the security control and baggage claim. Positioned at the entrance, City Hall and it's dramatic form will become the new face of the terminal, while further back "Security Box" will stand out for its bright blue facade.
The arrival hall will feature a rolling roof structure, constructed of pre-fabricated spruce-clad glulam elements and inspired by the work o Finnish sculptor Tapio Wirkkala, specifically the plywood wall sculpture "Ultima Thule" commissioned by the Finnish government for the Nordic pavilion at the Expo 67 in Montreal. The terraced plaza outside also draws from an artistic source: Laila Pullinen's copper bas-relief "Sun of the Fells," also presented at Expo 67 and planned for display in the new Terminal 2.
"The plaza is like a counterpart to the ceiling of "City Hall," explain ALA. "The three-dimensional surface hides the deck-like structure of the plaza and the drop-off ramp. This surface connects the different levels and routes both visually and physically."
The plaza has been designed with site drainage solutions in mind – in the summer, runoff will create a tranquil pool in the plaza, which in the winter will be transformed into a public skating rink. The stairs wrapping around the plaza will allow for transfer between terminal levels, while doubling as seating.
"The design of the terminal expansion emphasizes the equality of the routes of the arriving and departing passengers," the architects continue. "The lower level is used by arriving passengers, as well as by those coming to the terminal by bus, train, bike or foot and those coming from the parking facilities. This is why the identity of this level receives as much attention in the design as the departure hall. The large openings on the upper departure hall level visually link the two spaces."
Surrounding the terminal expansion, other new construction will provide access to the train station and a variety of buildings, parks and bridges as part of the airport city district. These interventions will result in a highly-walkable urban environment.
The expansion will be built in phases beginning in Fall 2018 at the earliest, with a preliminary completion date set for 2021.