First deployment of quiet, modern C Series in Hamburg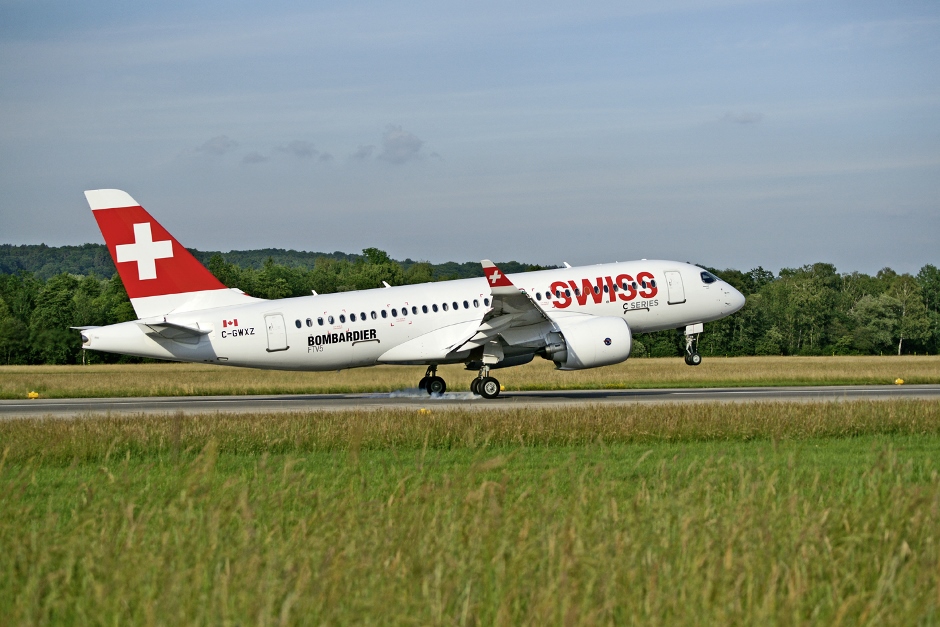 On 31 October 2016, Swiss International Air Lines (SWISS) has become the first airline to deploy the innovative Bombardier C Series of airliner in Hamburg. Swiss will operate the CS100 on up to four services between Hamburg and Zürich each week in the winter timetable. The CS100 has seating capacity for 125 passengers. Thanks to you new technologies in the areas of engines, systems and materials, the C Series of aircraft is setting new standards for comfort, efficiency and environmental friendliness. The CS100 produces less noise than comparable aircraft models.
Quieter aircraft – a milestone for aircraft noise protection
"The deployment of quieter aircraft is a significant milestone in the protection against aircraft noise pollution and has an essential role to play in the acceptance of an inner urban airport by neighbouring residents," says Michael Eggenschwiler, CEO of Hamburg Airport. "We therefore welcome the fact that SWISS is deploying its modern CS100 in Hamburg starting today. We are continuously in discussions with the airlines, impressing upon them the benefits of deploying the latest aircraft. It is important that researchers and the industry work on the enhancement and development of even more efficient and quiet aircraft, and that they quickly bring these aircraft to series production."
"I am proud of the fact that SWISS is the first airline to operate the world's most innovative and advanced aircraft of its class. It is very efficient and only half as loud as comparable aircraft. This is good news for Hamburg, as it already is for Hanover and Stuttgart. For our passengers, a new era of comfort is beginning," commented Iris Malich, Senior Director Germany at SWISS.
Less air and noise pollution with modern technology
The short and medium-haul CS100 offers innovative technology, maximal passenger comfort, an ergonomic cockpit and cabin environment and reduced environmental impact. Compared with similar aircraft models, the CS100 is quieter. This is particularly advantageous for an inner-urban airport such as Hamburg. Furthermore, the efficient motor – the very latest geared turbofan from Pratt & Whitney – in combination with reduced weight and optimised aerodynamics result in 20 percent lower fuel consumption. The aircraft's CO2 emissions have been reduced by 90,000 tonnes per year, the equivalent of some 7,000 flights between Zürich and London. The CS100 also achieves 50 percent lower emissions levels for nitric oxide by means of a new technology that reduces the combustion temperature in the engine.
Swiss International Air Lines flies from Hamburg to Zürich, Switzerland, up to 25 times per week during the winter. Alongside the new CS100, the airline primarily deploys Airbus A320/321 aircraft on the route. Flights can be booked at swiss.com or in travel agents.