Services even more in focus for 2017: Free WLAN for 24 hours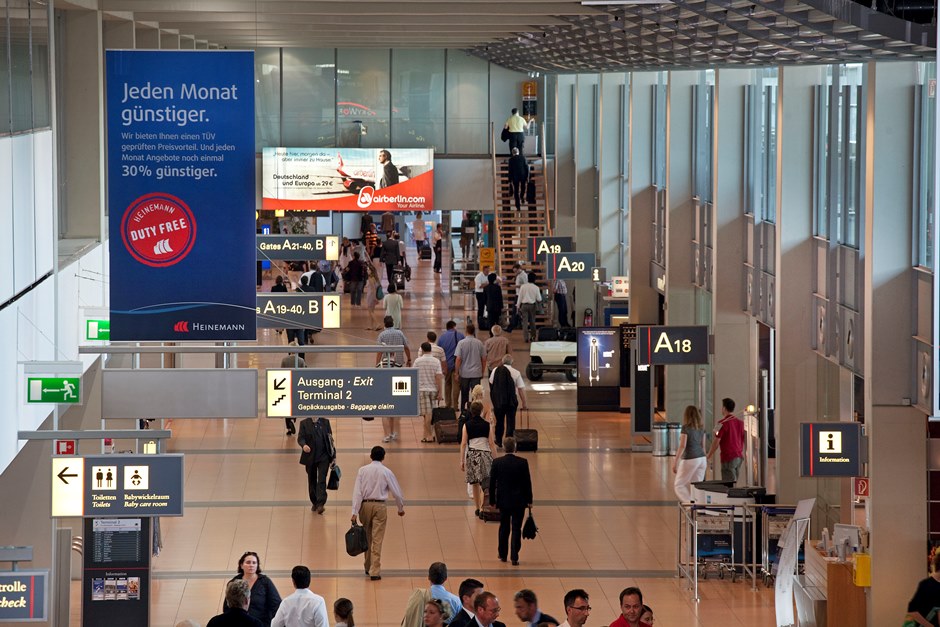 2016 was a year full of exciting events for Hamburg Airport. New routes and airlines extended the variety of flights available for passengers. And innovative services such as modernised gates and a new airport app made sure that travelling was comfortable. Hamburg Airport is continuing this trend in 2017. Since the start of the year, the airport is offering passengers 24 hours of free WLAN access. The route network will continue to grow.
Passenger numbers rise – high demand for mobility
16.22 million passengers used Hamburg Airport in 2016. That is around 610,000 passengers – around 3.9 percent – more than in 2015. This was the first time there were more than 16 million passengers in one year in the history of the airport. On 14 October, 2016, Hamburg Airport recorded around 65,000 passengers – the highest number of passengers on a single day since the airport was first opened.
Says Michael Eggenschwiler, CEO of Hamburg Airport:
We welcomed more than 16 million passengers at Hamburg Airport for the first time this year. This shows that the demand for mobility continues to grow, not only in Hamburg and the whole of Northern Germany, but also in the metropolitan area. We are happy to see that our diverse route network and innovative services persuaded so many passengers of the advantages of Hamburg Airport.
Aircraft movements, totalling around 160,650 in 2016, were lower than in the year 2000, when just under 10 million passengers used Hamburg Airport. Compared to 2015, the number of aircraft movements rose by around 1.4 percent in 2016.
Better load factor on flights keeps aircraft movements stable
The average number of passengers per flight in 2016 was 112.5, compared to an average of 109.7 in 2015. The average number of seats per flight increased from 144 to 147. Compared to 2015, the load factor on flights to and from Hamburg Airport rose by 0.6 percentage points to 77.3 percent. "The deployment of larger, more modern, and more efficient aircraft from Hamburg Airport, combined with better load factors, meaning that growth in passenger numbers and in aircraft movements is not directly proportional is good news for our community," explains Michael Eggenschwiler.
Even more variety in Hamburg's route network
Attractive services from Hamburg have already been announced for the 2017 summer timetable. EasyJet is adding new services to Bordeaux, Valencia and Rhodes. Ryanair is also further expanding its commitment to Hamburg, with additional destinations of Verona, Thessaloniki, Faro, and Valencia starting in the summer timetable. Condor will be operating a new service to Malta. Kos will also be returning to the carrier's timetable, having been absent for a while. A new airline is coming to Hamburg Airport – Nordica Regional Jet. In cooperation with LOT Polish Airlines, the Estonian carrier is opening a new route to Tallinn. After a brief absence, TUIfly is returning to Hamburg Airport with services to Tenerife, Fuerteventura, Gran Canaria, Crete, Kos, Rhodes, Palma de Mallorca, Menorca and Jerez de la Frontera. Blue Air is adding Cluj-Napoca and Liverpool to its network – two brand new destinations for Hamburg Airport. Small Planet Airlines are also expanding their Hamburg route network, with a weekly full-charter service to Larnaca, Cyprus, from 7 April, 2017 to be operated for FTI. Germania is adding a new service to Almería. SunExpress is focusing on sunny destinations with flights to Elazig, Adana, Ankara and Fuerteventura. Thus, Hamburg Airport will be offering flights to 130 destinations with a total of 60 airlines as of the beginning of the summer timetable 2017.
24 hours of free WLAN at Hamburg Airport
Hamburg Airport continues its focus on digitalisation of services in 2017. Since the start of the year, passengers and visitors have 24 hours of free WLAN access. The complete WLAN infrastructure was modernised and extended last year to make this possible. Passengers and visitors are now able to log in to "HAM Airport Free WiFi" for unlimited access to surf the web, read their emails, check flight data and much more. Visitors to the Airport Lounge at Hamburg Airport have already had unlimited free WLAN access since April 2016. Innovative services, such as the multi-airport "Passngr" app and Hamburg Airport's new Snapchat channel, already ensure that the travel experience is a modern one.
Redesigned pier areas with a Hamburg focus, equipped with numerous power and USB connecting points as well as comfortable modern seating areas, cater for a range of passenger needs. There are alternating quiet zones and technically well-equipped business zones, and bistro tables serve as communicative meeting points.
2017: a year with continuity
Michael Eggenschwiler looks ahead into this new year with confidence.
In 2017, we expect moderate passenger growth of a little over 3 percent again. We expect aircraft movements to remain at the previous year's level. This shows, once again, that aviation is becoming more and more efficient. In 2017, too, Hamburg Airport will be emphasising the benefits of modern, efficient and quiet aircraft, a better load factor, optimal usage of existing capacities and objective dialog with our neighbours.
05.01.2017