Global Connectivity: FRA provides the most nonstop connections worldwide: 299 destinations in 97 countries – including 139 intercontinental destinations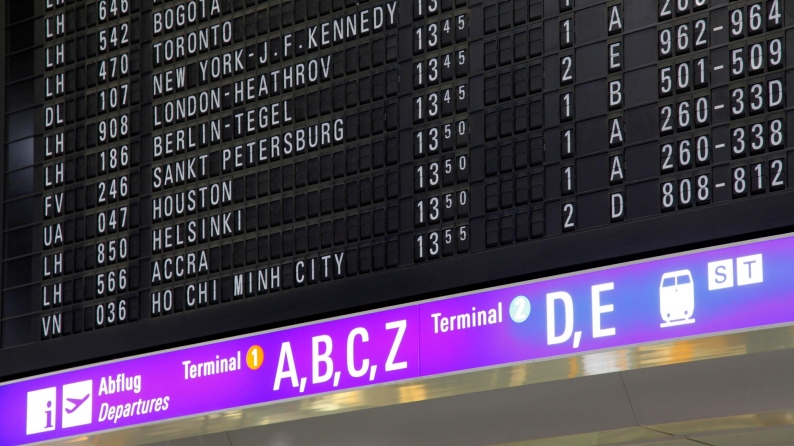 Frankfurt Airport's (FRA) new Summer Timetable 2017 – which goes into effect on Sunday, March 26 – features 96 scheduled passenger airlines flying to 299 destinations in 97 countries. According to ANNA.aero, the renowned industry portal tracking aviation route trends, this extensive network makes FRA the leading airport for nonstop destinations. Indeed, Frankfurt Airport's vital role as a global aviation hub is underscored by the 139 intercontinental destinations being offered this summer. The number of scheduled departures from FRA will rise to 4,805 flights per week, up two percent compared to last year's summer timetable. The resulting total seat capacity will increase by two percent to about 835,000 seats per week, including 295,000 seats available on intercontinental routes worldwide.
From its Frankfurt home base, Lufthansa will be adding new destinations and increased flight frequencies during the Summer Timetable 2017. For example, travelers will soon be able enjoy year-round service on the route from Frankfurt to Cape Town (CPT), South Africa. In addition to Condor's service, Lufthansa will be offering a year-round connection to Cape Town three times per week. For the first time, FRA's summer schedule will feature flights to Santiago de Compostela (SCQ), thrice weekly to this pilgrimage city in northwestern Spain. Service to Paderborn (PAD) in the German state of North Rhine-Westfalia will be resumed by Lufthansa this year, with six flights per week. In addition, Lufthansa will again be steering a course for Shannon (SNN), Ireland, with one weekly flight, as well as offering two flights per week to Bordeaux (BOD), France, from April 2017. Funchal (FNC) on the Portuguese island of Madeira will be served by Lufthansa with a weekly year-round connection. More flights (twice per week) will be available on the Lufthansa route from FRA to Pula (POY) in Croatia. Currently, Croatia Airlines has been offering twice weekly service to POY. Germany's northern coastal town of Heringsdorf (HDF) on the island of Usedom will also be offered by Lufthansa, once per week once week starting in mid-April.
Condor will add new and attractive destinations via its Frankfurt home base, while also resuming service this summer its popular destinations. From the beginning of May until October 2017, Condor will add two new destinations in the continental U.S.: with up to three connections per week to San Diego (SAN), California, and twice weekly service to the jazz capital of New Orleans (MSY) in Louisiana. For the first time since 2004, Condor will be flying twice weekly to Pittsburgh (PIT), Pennsylvania from the end of June until the beginning of September. FRA´s European route network will be boosted with a new Italian destination: with Condor's twice weekly service to the city of Bari (BRI) from the beginning of July until mid-October. Condor will add the following Italian destinations to its extensive FRA network: Rimini (RMI), Naples (NAP), Olbia (OLB), Catania (CTA), Cagliari (CAG), Lamezia Terme (SOF) and Palermo (PMO). Also in southern Europe, Condor will being flying to the Greek destinations of Thessaloniki (SKG) on the mainland as well as the island of Samos (SMI). Furthermore, Condor jets will be serving Larnaca (LCA) and Paphos (PFO) on the island of Cyprus, as well as the increasingly popular Bulgarian holiday destinations of Burgas (BOJ) and Varna (VAR) on the Black Sea coast. In summer 2017, Condor will fly to Dubrovnik (DBV) and Split (SPO) in Croatia.
Frankfurt Airport has attracted a number of new airlines for the summer 2017 schedule. Starting from March 28, Ryanair from Ireland will be flying to four European destinations once a day: Alicante (ALC), Malaga (AGP) and Palma de Mallorca (PMI) in Spain, as well as Faro (FAO) in Portugal. Ryanair plans to move up the launch of the following 17 of 20 destinations planned for the FRA Winter Timetable 2017/2018: Athens (ATH); Catania (CTA); Glasgow (GLA); Las Palmas (LPA); Gran Canary; Cracow (KRK); Arrecife (ACE) on Lanzarote (Canary Islands); London-Stansted (STN); Madrid (MAD); Milano-Bergamo (BGY); Manchester (MAN); Pisa (PSA); Porto (OPO); Seville (SVQ); Tenerife (TFS); Toulouse (TLS); Valencia (VLC) and Venice-Treviso (TSF).
The low-cost carrier Wizz Air will offer one daily service from FRA to Sofia (SOF), the capital of Bulgaria, starting May 22. In addition, Sundair (Germany) plans to launch services in July to multiple destinations in the Mediterranean area.
Air Canada will be offering a daily service to Vancouver (YVR), on the Pacific coast of Canada), from the beginning of June until mid-October. This connection complements the Vancouver connection offered by its Star Alliance partner Lufthansa. Air France will also be offering, additionally to Lufthansa, three weekly flights to Bordeaux (BOD), France, from July until September 2017. Royal Jordanian Airlines will expand frequencies on its route between FRA and Amman (AMM), Jordan, from five times per week to daily service.
New on its FRA route this summer, Asiana Airlines will be flying the Airbus A380 superjumbo to Seoul (ICN), Korea). Oman Air will deploy the Boeing 787 for its flights between FRA and Muscat (MCT), Oman.
Air Malta will no longer be operating its flights to Malta (MLA) from Frankfurt this summer season, while Vueling will discontinue its service to Barcelona (BCN), Spain.
Because of the constant actualisation of flight data systems by the airlines, the Frankfurt Airport Timetable will only be available in digital form in the future. Information on all flights and airlines is available on the Frankfurt Airport website at www.frankfurt-airport.com.
24.03.2017