FRA's global network: 95 passenger airlines serve 290 destinations in some 100 countries – New Direct Connections Offered to International Destinations – Frankfurt Underpins its Role as Germany's Gateway to the World in Intercontinental Traffic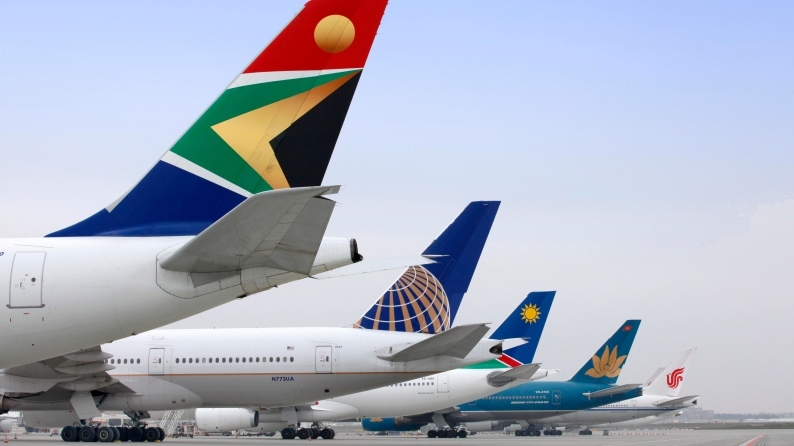 In the 2016 summer schedule, the overall seat capacity at Frankfurt Airport (FRA) will remain at the previous year's level, with approximately 820,000 seats per week planned. The average number of seats per aircraft movement will continue to increase, with the total number of planned aircraft movements being slightly below the previous year's level at 4,725 takeoffs per week (down 1.5 percent). Despite two new additions, the number of passenger airlines operating from FRA will decrease by nine to 95. With 141 intercontinental destinations, Frankfurt will continue to play an important role as an international air transportation hub. A total of 290 destinations will be served directly from FRA (down seven). The summer schedule will take effect on March 27 (in tandem with the changeover to summer time).
Frankfurt Airport has gained two new airlines, WOW Air from Iceland and Ellinair from Greece. Starting from June, WOW Air will offer six flights a week to Iceland's capital, Reykjavik (KEF), where the low-cost airline operates a transfer hub to North America. Greek carrier Ellinair will offer a weekly service to Heraklion (HER) on the island of Crete starting from May.
A number of airlines already operating from FRA will add new destinations during the summer. Air China is planning to launch a new route to Shenzhen (SZX) in southern China, with a three times weekly service. Starting from June, German airline Condor will launch a new twice-weekly service from Frankfurt to Austin (AUS), Texas, in the U.S. Lufthansa, FRA's home carrier, will also add a new U.S. destination to its network, launching a five times weekly service to San Jose (SJC), California. Three destinations that were added by Lufthansa in the winter will continue to be included in the airline's summer schedule: Panama City (PTY) in Panama (with five flights per week), Nairobi (NBO) in Kenya (currently three weekly services; from September, five services per week) and Tampa (TPA), Florida, in the U.S. (with five weekly flights). Similarly, Condor will keep its current winter destination Rio de Janeiro (GIG) in Brazil in its summer schedule, with two flights per week. The Moroccan low-cost carrier Air Arabia Maroc, which began operating from FRA in the winter, will continue its service to Marrakesh (RAK).
Several existing destinations will be served by additional airlines in the summer or will be served more frequently. Starting from June, China Airlines will operate its route to Taipei (TPE) in Taiwan on a daily basis (previously five times a week). Sri Lankan Airlines will increase the frequency of its service to Colombo (CMB) from four to five times a week, starting in July. Lufthansa is splitting its previous route to Qingdao (TAO) via Shenyang (SHE) in China and will in future fly non-stop to both cities three times a week. This means that the route to Qingdao will now be operated from FRA for the first time without a stopover. Palma (PMI) on the Spanish island of Mallorca will be served more frequently (up to 14 times a week) by German carrier TUIfly and additionally by Sun Express (three times a week). Sun Express will add other holiday destinations to its network from FRA: Ibiza (IBZ) in Spain, Agadir (AGA) in Morocco, Burgas (BOJ) on the Bulgarian Black Sea Coast, and Chania (CHQ) on the Greek island of Crete.
The following airlines will no longer operate from Frankfurt Airport (as compared to the 2015 summer schedule): Luxair (Luxembourg), the FRA-Luxembourg route will now be operated by Lufthansa; US Airways (U.S.A.) is now part of American Airlines as a result of a merger; Malaysia Airlines (Malaysia) has removed FRA from its route network as part of its restructuring; Yemenia (Yemen) temporarily suspended all flights to FRA in summer 2015, due to the military conflict in Yemen; Libyan Airlines (Libya) also temporarily suspended all flights to FRA during summer 2015, due to the military conflict in Libya; Rossiya (Russia) belongs to Aeroflot and did not request any slots; Utair (Russia) no longer requested any slots in the context of restructuring; Transaero (also Russia) is insolvent; AtlasGlobal and Corendon (both from Turkey) did no longer request any slots; Germanwings (Germany) only offered charter flights from FRA to Pristina, Kosovo, in summer 2015.
Information on all flights and airlines is available on the Frankfurt Airport website (www.frankfurt-airport.com).