Readers of renowned STAT Trade Times magazine elect Frankfurt Airport as Best International Freight Airport
Frankfurt Airport (FRA) has once again been recognized as the best international freight airport by the readers of the renowned "STAT Trade Times International" magazine. Established in 1986, the "STAT Trade Times International" is one of the leading trade publications for the cargo industry. The award was presented during the "Air Cargo India 2016" trade fair in Mumbai (India).
During the ceremony, Fraport AG's Senior Vice President for Cargo, Dirk Schusdziara, said: "With this award, the cargo industry honors our ongoing process enhancements at FRA as well as our success in strengthening Frankfurt Airport in its role as a strategic transportation hub for the German and European economy. The fact that the readers of the STAT Trade Times have once again elected Frankfurt Airport as International Cargo Airport of the Year shows that we are on the right path."
In 2015, Frankfurt Airport exceeded the record mark of 60 million passengers for the first time in a calendar year. Cargo volumes also remained at high levels, despite the challenges in the global economy. With approximately 2.1 million metric tons of cargo handled in 2015, FRA continues to hold its leading role as Europe's largest airfreight hub.
To sustain this positive trend, Fraport AG – together with all partners involved – continues to further develop the FRA global cargo hub. Frankfurt provides unique business conditions for the international cargo industry, thanks to its central location in the heart of Europe, its ideal intermodal connectivity, its excellent infrastructure as well as the continuous and consequent digitalization of all cargo processes. This makes Frankfurt the leading logistics powerhouse in European airfreight and a highly efficient logistic cluster in Germany. In addition to ongoing traffic and cargo growth, Frankfurt Airport's attractiveness as a global airfreight hub also results from its integrated networks in the air and on the ground, the dynamic accumulation of expertise, the close cooperation with all partners and its ongoing operational innovations.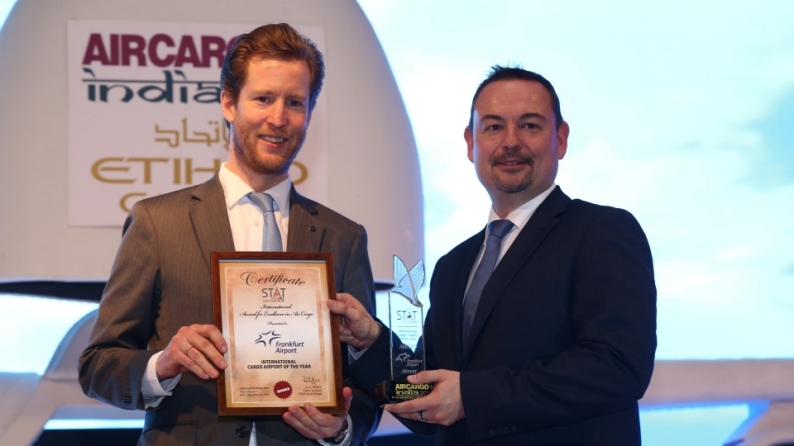 01.03.2016