– Pier G identified as best option to accommodate growing low-cost segment
– New pier to be constructed in three phases
– First phase scheduled to open in 2020 with capacity for 4 to 5 million passengers
– Pier G will be designed to provide cost-saving, no-frills ground handling for LCC traffic while being fully integrated into Frankfurt Airport's hub function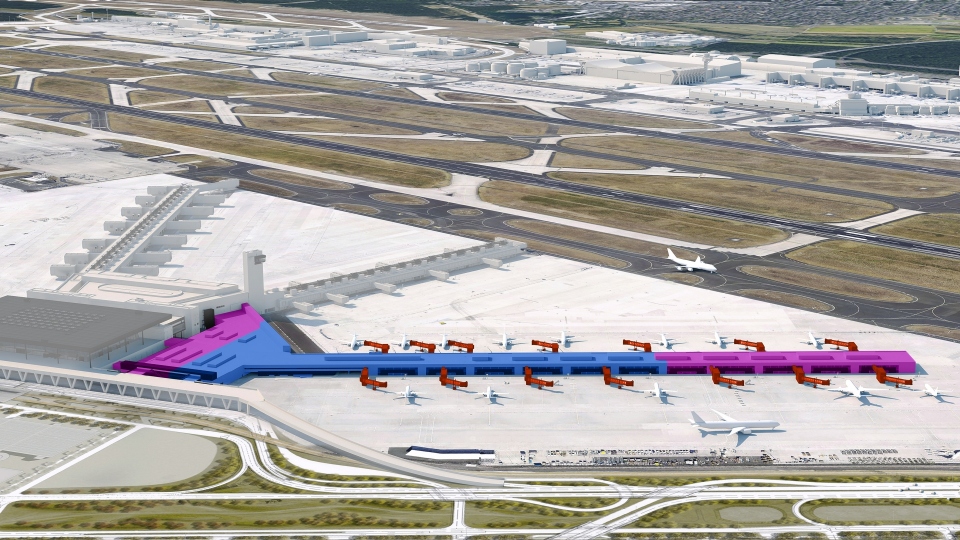 Fraport AG today submitted the building permit application to the City of Frankfurt for the construction of the new Pier G at Frankfurt Airport (FRA). Fraport has decided to move up the construction of the new pier in response to passenger growth, particularly in the low-cost segment. Pier G was originally envisaged as the second phase of the construction of FRA's new Terminal 3 but is now being realized and commissioned ahead of schedule.
The new pier will provide cost-saving, no-frills ground handling for LCC traffic while being fully integrated into Frankfurt Airport's hub function. The decision in favour of the new pier, which fully complies with the zoning specifications for the new terminal, was taken following a comprehensive examination of various options. Based on the current plans, the first construction phase of Pier G will be completed in 2020 at a cost of up to €200 million and will provide an annual capacity for four to five million passengers.
Fraport AG's chairman of the executive board, Dr Stefan Schulte, explained:
Submitting the building permit application for the new Pier G is an important step that will enable us to alleviate future capacity constraints at Terminals 1 and 2 as early as 2020. By this date, our two existing terminals are expected to be approaching their capacity limit of 64 million passengers. That limit could be expanded to around 68 million passengers, but only on a temporary basis and at the expense of quality. Pier G was already envisaged as the second phase of the construction of our new Terminal 3 and is now being built ahead of schedule. The new pier is designed as a fully functional passenger terminal tailored specifically to the needs of low-cost carriers and will be optimally integrated into Frankfurt Airport's hub system.
Until the planned opening of the first section of Terminal 3 in 2023, a bus shuttle will be available to transport passengers from Pier G to and from Terminals 1 and 2 on the northern side of the airport. Baggage transport will also be provided by a temporary replacement service during this period. After that, Pier G will be fully linked to FRA's people mover system and the airport's baggage conveyor system.
In a second phase, Pier G will be expanded to a total capacity of up to seven million passengers and connected to the first section of Terminal 3. In the third and final phase, Pier G will be extended to include bridges and jetways.
Construction work on the new pier is scheduled to begin in mid-2018 under the responsibility of a general contractor. An EU-wide tender for the work has already been launched. Fraport Ausbau Süd GmbH, Fraport's wholly-owned subsidiary in charge of the airport's South Expansion project, will supervise construction and perform project management.
CEO Schulte underlined:
Frankfurt is and will remain a hub airport. However, the development of the aviation market as a whole means that, in addition to the traditional full-service offering that many airlines expect from us, we have to take the needs of low-cost providers into account and continuously enhance our processes. From our talks with low-cost providers we know that short turnaround times are a particular priority for the LCC sector. However, it is equally important for us to expand our services in our core business with network carriers so that we can continue to offer them a premium product also in the future. Hence, the first construction phase of Terminal 3 – consisting of Piers H and J and designed to provide capacity for 14 million passengers – remains unchanged and is proceeding as planned. Terminal 3 will serve as a new hallmark for Frankfurt Airport as an international aviation gateway. Thanks to the parallel planning and realization of Pier G and Terminal 3, we will maintain the necessary flexibility to offer ideal business conditions for all aviation segments in the future so that we can continue to grow together and operate profitably here in Frankfurt.
16.08.2017