First Decade of Success for Bulgaria's First Airport Concession – Major Infrastructure Improvements Including Popular Terminals Opened in 2013 – Strong Traffic Surge in 2016 – Black Sea Coast Tourism Flourishes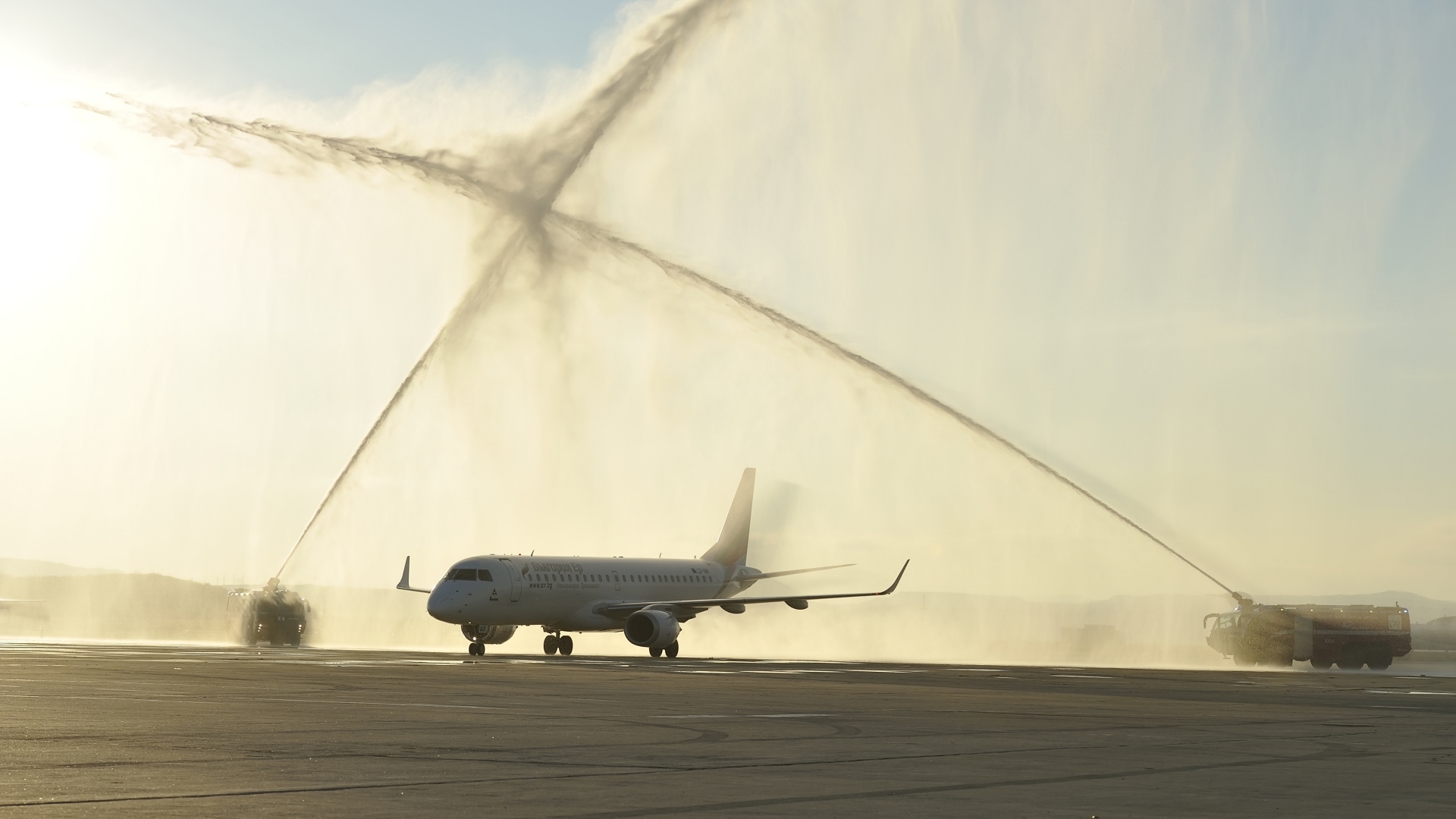 On Thursday, November 10, Fraport Twin Star Airport Management AD (FTSAM) marked the first decade of its successful airport concession at the Burgas (BOJ) and Varna (VAR) aviation gateways on Bulgaria's beautiful Black Sea coast. Ten years ago, Fraport Twin Star commenced operations for Bulgaria's first airport concession – the start of a 35-year commitment for managing and developing Burgas and Varna airports as vital gateways to one of Europe's most interesting and increasingly popular tourist regions. Attended by around 700 staff and invited guests from aviation, government and business, the anniversary day celebrations at Varna Airport represented the culmination of many events presented during 2016. Throughout the anniversary day all passengers at Varna Airport were welcomed with a treat so that they could share in the celebrations. The youngest passengers received airplane toys as a surprise gift.
To commemorate Fraport Twin Star's first decade, the invited guests were taken on a tour through time via a photographic exhibition documenting the many improvements implemented at Varna and Burgas airports. The CEO of Fraport Twin Star Airport Management AD, Ulrich Heppe, concluded the tour by placing a time capsule in the ground and sealing it with a commemorative stone. Intended to be opened after a quarter century, the time capsule contains a special message to colleagues in the future, as well as company publications, videos and other artefacts. The guests then joined to a gala evening of entertainment, official speeches, and a unique 3D mapping video – the first of its kind made for an airport in Bulgaria.
Addressing the guests, CEO Heppe reflected on the last decade:
We are very happy with what has been achieved in the past 10 years. We are also proud of the new terminals at Varna and Burgas which have turned our two airports into modern gateways to the Black Sea coast. Our airports meet European and world standards of service excellence. We are proud of serving more than 35 million passengers during this amazing first decade. For us, this year has also been particularly exciting because we achieved strong 22 percent growth in passenger traffic – new historical records for both airports. Along with improving the infrastructure, the key to our success has been the employees at Fraport Twin Star who have a very strong service commitment to our passengers, airlines and partners. Thank you for celebrating our 10th anniversary with us. We look forward to the next new exciting decade at our shining Twin Stars on the Black Sea coast.
Bulgaria's tourism minister Nikolina Angelova extended special greetings to Fraport Twin Star and the guests, while underscoring the importance of continued support in the future for the joint efforts to develop the Black Sea region as a year-round tourist destination. The governors representing Burgas and Varna municipalities at the event expressed their gratitude to Fraport Twin Star for the great cooperation throughout the years and efforts to stimulate tourism in the region. They also wished the company great health and prosperity in the future. The mayors who were unable to attend the event sent official messages of congratulation.
Varna's mayor, Ivan Portnih, talked about the decisive first decade of development:
Over the years, Fraport Twin Star Airport Management has clearly proven that, when managing the twin airports according to a long-term vision and with intelligent investments, success is never late! This is certainly visible at Varna Airport – with each season accounting for a bigger increase in the number of tourists and attracting growing interest from international airlines. I believe our ambition to turn the region into a four-seasoninternational destination will be successful – thanks to the active partnership between the municipality of Varna and Fraport!
In his written message sent to Fraport Twin Star, Burgas' mayor Dimitar Nikolov said:
You ensure our city's tourism and economic progress well into the future. Fraport creates a positive image of Destination Burgas and Bulgaria – while providing convenient, comfortable and European-level quality service to all passengers. To date, Fraport Twin Star has invested more than 350 million leva in the development and modernization of both airports. Brand new state-of-the-art passenger terminals were inaugurated in 2013 at BOJ and VAR – flexible and customer-friendly facilities that have been well received by passengers and airlines – along with many other infrastructure enhancements. These have included a renovated runway at Varna airport, significantly expanded areas for positioning of aircraft at Burgas Airport (apron extended), modern equipment at both airports, newly built service buildings, as well as a career development center for employees. The continuous training and qualification of airport staff is a key element of Fraport Twin Star's corporate policy and its success. New airlines and routes have been added to the flight schedules at both airports, as Fraport Twin Star continues to expand its marketing activities for these gateways on the Black Seas coast of Bulgaria.
15.11.2016