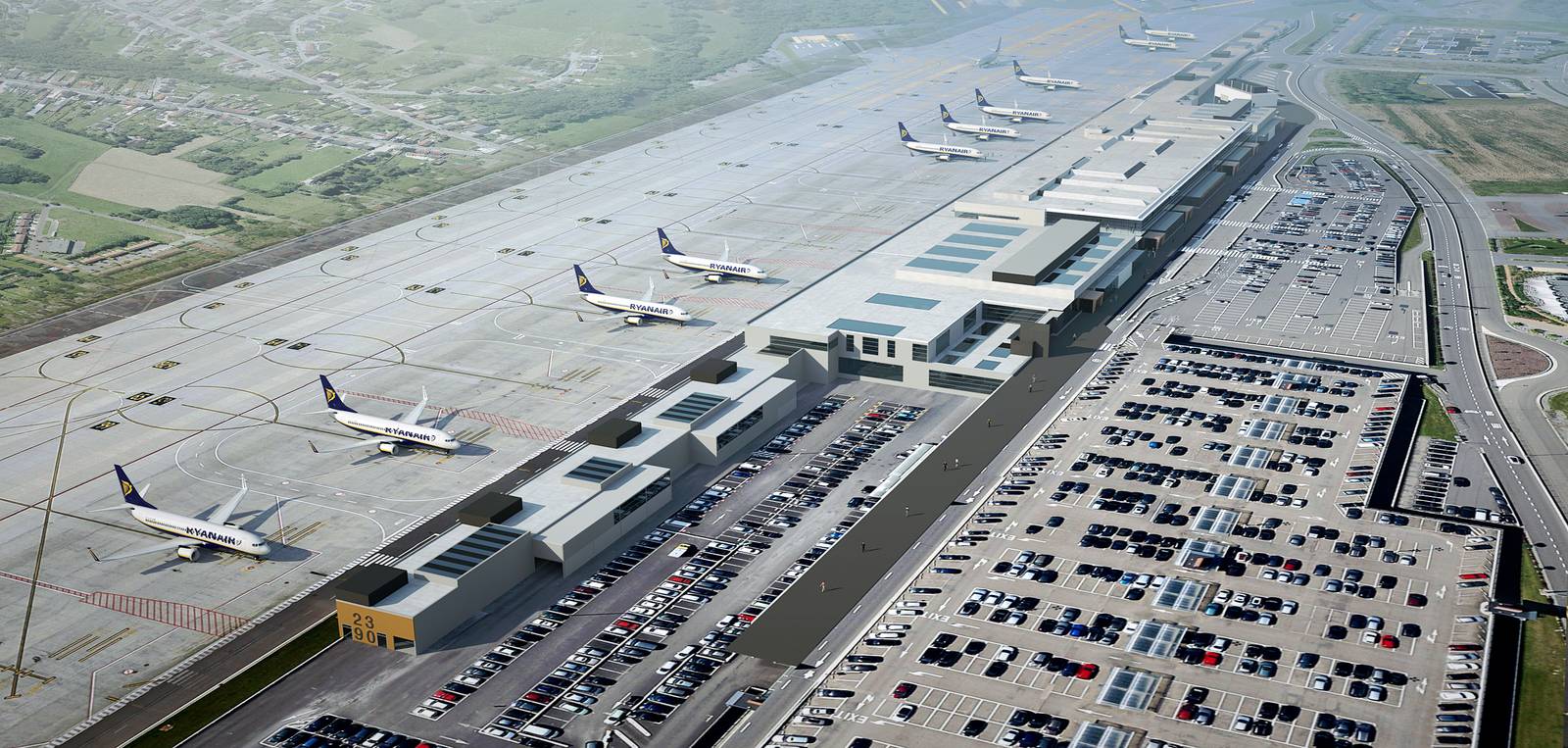 Terminal 2 at Brussels South Charleroi Airport takes off on Monday, 30 January 2017. From then, BSCA passengers will be able to depart from this brand-new terminal, constructed in the space of just ten months. Designed to provide comfortable passenger accommodation, it will contribute to the airport's growth. The signage has been adapted to facilitate access to both terminal 1 and terminal 2. Certain flights to the Schengen area only will leave from the new terminal at Brussels South Charleroi Airport.
Completed in record time, the new terminal 2 is ready for take-off. After a series of tests conducted during the week of 23 January, T2 is operational and will come into service officially on Monday, 30 January 2017. Terminal 2 has a floor area of 5,800 m² and comprises eight check-in desks, three departure gates and two baggage carousels in the arrivals hall. It also has all the necessary facilities available in terminal 1, namely unlimited free wi-fi, lounge, refreshment facilities and a duty free for pre-departure shopping.
What changes will passengers see at Brussels South Charleroi Airport?
From now on, flights to cities in the Schengen area may depart from terminal 1 or 2. The signage has been adapted and a colour code for information relating to the different terminals has been established into order to facilitate access for everyone. Information relating to terminal 1 is in orange and that relating to T2 in green-yellow.
On arrival at the airport, passengers have simply to follow the information relating to their flight on the screens in the car parks and at the entrance to the pre-screening tent installed on the former express car park. Having found their flight on the screen and depending on the departure terminal, passengers just have to make their way to their terminal by following the arrows, which also use the above colour coding.
The Ryanair flight to Budapest on Monday, 30 January 2017 will, therefore, be the first in a long line to leave from terminal T2. René COLLIN, the Minister in charge of Airport Policy in Wallonia will be present to mark the occasion and will present gifts to the first passengers.
Jean-Jacques CLOQUET, CEO of Brussels South Charleroi Airport, expressed his delight at the latest progress in development of the airport:
It has been much talked about … We have been waiting for it and now we have it, terminal 2 at BSCA! We can be justly proud of the efforts made by everyone to complete this project in record time. This feat is evidence of the full extent of the know-how and responsiveness we demonstrated in successfully completing this development, which is essential to the growth and diversification of our business. Thanks to terminal 2, we will eventually be able to handle ten million passengers. Initially T2 will be open at peak times in order to relieve the pressure on terminal 1 and accommodate passengers in greater comfort.
Charleroi, 27 January 2017