Free drop-off zone, improved signage and more check-in locations: the first initiatives to come out of Brussels Airport's 'Join the BRU Crew' survey.
Last summer, Brussels Airport launched the 'Join the BRU Crew' project, aimed at collecting feedback from travellers on what they feel is going well and what could be improved upon at the airport. Brussels Airport is taking these findings to heart and has already implemented a number of changes, including the new free drop-off location outside the car parks, new parking concepts, more extensive signage and new locations for passengers to check in.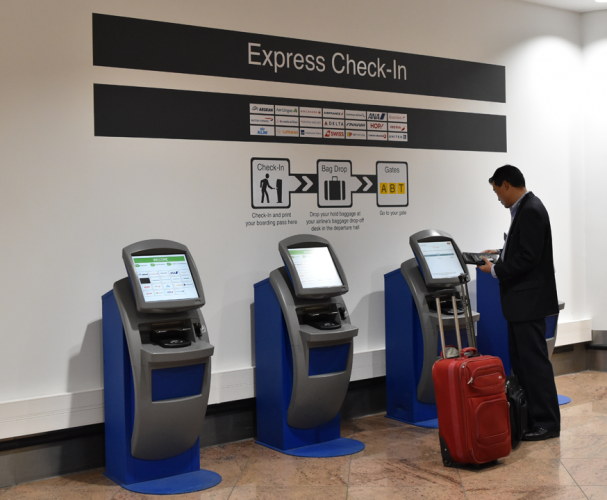 In September, 114 people took part in Brussels Airport's 'Join the BRU Crew'. The passengers all got a return ticket to a European destination of their choice in exchange for their feedback on the airport. Using a comprehensive survey and stress meters, the airport was keen to find out what passengers think is going well and where things are not quite up to the mark, where they experience stress and where they feel most comfortable. Resorting to innovative research methods (stress meters and eye-tracking devices) yielded valuable new insights.
Positive experiences and points for improvement
Brussels Airport was delighted to learn that passengers feel quite a few things are actually going very well indeed. Brussels Airport staff were described as friendly and helpful, and the option of checking in online was highly rated. Connector (the way to Pier A) and Gallery of Light (the way to Pier B) get a big thumbs up as agreeable places to spend time.
The 1 euro 50 cl bottles of mineral water are much appreciated. The seats around the piers are described as comfortable, and the charging points for electronic devices meet with great approval from passengers. Boarding operations run smoothly
Passengers also singled out a few points for improvement, such as the signposting of the car parks or the availability and clarity of instructions of the self -check-in machines in the departures hall. Brussels Airport did not waste any time in tackling these issues.
We have reinstated a free passenger drop-off area close to the terminal. This new drop-off area which was opened in December has a substantial capacity of 700 passengers per hour is within very short walking distance from the terminal, which can be reached via a covered walkway.
In addition, we have introduced a new concept which allows people to park free of charge for 30 minutes using the Pcard+, enabling them to pick up and drop off passengers at a leisurely pace. The general signage in and around the car parks improves wayfinding at Brussels Airport.
The airport has installed additional self-service check-in machines on the rail and bus station levels. The presence of self-check-in machines at various locations now allows passengers to check in more rapidly. The airport has also made it possible for passengers to request assistance from "Airport Crew" (if needed) with the check-in machines in the departures hall.
Some numbers relating to the survey
3768 people signed up to be part of the "BRU crew"
53% of these people were Dutch speakers, 46% French speakers and 1% English speakers
114 people got a return ticket to fly to a European destination and back
A representative group of different types of travellers, including 11 families of 3 to 4 people each
The destinations were Basel, Berlin, Barcelona, Copenhagen, Dublin, Lisbon, Milan, Porto or Stockholm
The tickets were booked with various airlines
The respondents could provide feedback in different ways and at various times
They all completed an online questionnaire before and after their journey
Once at the airport, they were able to send in pictures and comments through an app
18 people were asked to wear eye-tracking glasses and a stress monitor on their journey from their home up to the airplane
By means of ongoing surveys among passengers the airport is able to establish whether the innovations and adjustments brought are also felt to be improvements by its users. In addition, Brussels Airport is also looking into new initiatives to further enhance passenger experience at the airport and remains open to the feedback from passengers and the 'Join the BRU Crew' group in particular.
Brussels Airport, 13 February 2017