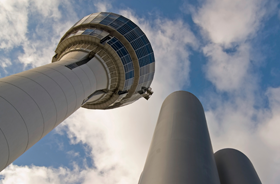 Between 2:00 and 4:00 this morning, Belgian airspace was closed because of the discontent movement of air traffic controllers. Since 4:00 however, traffic, which is very low at that time of the day, could be managed, said the spokesman of Belgocontrol, Dominique Dehaene.
The situation is still uncertain for the rest of the day this Wednesday. By late Tuesday, the air traffic controllers began a protest, dissatisfied with an agreement reached earlier that day, causing a lot of disruption to flights from and to the Brussels and Charleroi airports.
In the early morning, only 15 flights per hour were handled, versus 76 under normal conditions.  Later in the morning the available controllers handled 40 flights per hour. At 15:00 Belgocontrol announced that the situation would be normal until at least 22:00, when the nights shift would report at work.
Brussels Airlines indicates that 50 flights will be cancelled on Wednesday
Disturbances for Brussels Airlines started from 17:00 Tuesday, causing the cancellation of a little over 40 flights. Wednesday, the scenario should be renewed. The airline announced 50 cancelled flights to and from Brussels. The cancelled flights concern France, the UK, Poland, Sweden, Italy, Hungary, Germany, Spain, Switzerland, Denmark, the Czech Republic, Norway and Russia. Brussels Airlines offers the opportunity for travellers with a ticket to or from Brussels on April 13 to move their flight at a later date before July 13. However, changes cannot be made online now; the company recommends to make the changes through its office at the airport, by telephone or via a travel agency. Brussels Airlines also advises to check the status of flights on its website before travelling to the airport.
Minister Jacqueline Galant calls to resume dialogue Tuesday evening Minister for Mobility Jacqueline Galant called flight controllers to resume dialogue and to avoid the paralysis of activities. "I hope that the dialogue will resume between all parties. We must, in the interest of all, allow airports to remain operational," she said in a brief statement.
Voka accused air traffic controllers of "playing with the image of the country"
The Flemish employers' organization Voka Tuesday described as "totally irresponsible" actions organized by air traffic controllers. "We play with the image of the country for the interests of a limited group," responded the boss of Voka, Hans Maertens, arguing in essence that damage to reputation is a godsend "for Erdogan and Trump." Turkish President and the Republican candidate for the US presidential election recently mocked Brussels. Voka still speaks of "uncivil behaviour" on the part of the strikers, "to the detriment of the public interest" and asks the federal government in general and the Minister for Mobility, Jacqueline Galant, in particular, to intervene.
For its part, the Association for European Airlines (AEA) lamented about a move that affects thousands of passengers. AEA condemns "strongly" this strike which happens at the worst time, according to the association.