Brussels Airport is expecting a first big wave of passengers at the start of the summer holidays. In the first five days of the summer holidays, the airport will welcome nearly 400,000 passengers, including some 218,000 departing passengers. This summer, passengers can choose from around 200 different destinations, and there are 9 new destinations. Travellers who don't want to miss a minute of the major sporting events, such as Euro 2016 or the Olympic Games, can follow all the action on large screens in five bars and restaurants on the airport.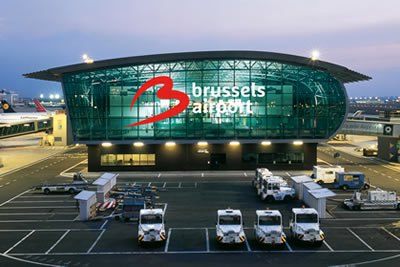 This week will see the summer rush begin at Brussels Airport. At the start of the holidays that for the airport traditionally begin on 30 June, there are 218,000 departing passengers. The top days during the start of the holidays are Thursday 30 June, Friday 1 July and Monday 4 July, when 44,000, 47,000 and 46,000 departing passengers are expected.
Below is an overview of the estimated numbers of departing passengers for the coming days:
Thursday 30 June 44,000
Friday 1 July 47,000
Saturday 2 July 38,000
Sunday 3 July 43,000
Monday 4 July 46,000
Nine new destinations
This summer, passengers at Brussels Airport can choose from no fewer than 200 destinations. Nine destinations are new in the summer schedule: Accra, Tokyo and Toronto on the long haul, Larnaca, Nuremberg, Belfast, Iasi, Rabat and Bratislava on the short haul.
The destinations Accra by Brussels Airlines and Tokyo by Ali Nippon Airways were started in the winter and will continue throughout the summer. Brussels Airlines started operating five flights a week to Toronto at the end of March.
Passengers can also enjoy short-haul services to 6 new summer destinations: 3 completely new destinations and 3 winter destinations that will continue to operate in the summer. Brussels Airlines will be flying this summer to Nuremberg, Ryanair to Larnaca and Royal Air Maroc to Rabat. Belfast with Brussels Airlines, Bratislava with Ryanair and Iasi with Blue Air are completely new destinations in the summer schedule that came into operation at the end of March.
Playing or watching sports at the airport
This summer, various major sporting events are being held throughout the world. Brussels Airport is putting on its track-suit and stimulating passengers to do a bit of sport at the airport. Passengers can join in the 100m Gate Run or show their skills at kicker tables and shuffleboards.
And people not wishing to miss a minute of this summer of sport can watch the events on large screens in five bars and restaurants: Beers & Cheers, Leffe Bar, Sportsbar, Brussels Plaza and Hi! Brussels. All events including Euro 2016, Wimbledon, the Tour de France and the Olympic Games will be shown.
Tips for a smooth departure
Get to the airport on time. Brussels Airport recommends passengers to arrive at the airport in good time. Passengers should arrive at the airport two hours before the departure of a European flight and three hours before a transatlantic flight.
Airport is easily accessible with public transport. On busy departure days, a lot of traffic is expected on the approach roads to the airport. Public transport can prove a good alternative. The train and bus station is located respectively two and three storeys below the departures hall. There are up to 6 trains an hour to and from the centre of Brussels. The NMBS/SNCB has also introduced a special family ticket, so that families can take the train to the airport for an attractive price. http://www.brusselsairport.be/en/passngr/to_from_brussels_airport/train/
http://www.brusselsairport.be/en/passngr/to_from_brussels_airport/bus/
Dropping someone off or picking someone up by car
This summer there is a temporary drop off zone at Brucargo. This free "Kiss and Ride" parking is open from 25 June to 21 August 2016. Just take exit 12 Cargo on the E19 and follow the signs for Brucargo and the drop-off area. From there any De Lijn bus (during the day) or shuttle bus (at night) will take the passengers in ten minutes free of charge to the airport building. You can find more information here.
You can pick up and drop off someone in car parks P1, P2 and P3. You can park in one of the available parking spaces free of charge for fifteen minutes to drop off or pick up passengers safely.
Making your way to the airport by car? Leave on time and reserve your parking space Are you going to come by car? Then leave in plenty of time and avoid the stress and nuisance of getting stuck in traffic. Consider reserving your parking space.
Check in online Online. check-in saves a lot of time and is possible from 24 hours before the scheduled departure time of the flight or as indicated by the airline. In this case, baggage can be handed in at your airline's 'Baggage drop-off' desk.
Don't forget your travel documents. Remember to take your identity card or passport with you. Children under the age of 12 need a children's ID or passport in order to be allowed to travel by plane.
Prepare you hand luggage for the security control. Do not carry any sharp or pointed items in your hand luggage and put liquids in your hold luggage. Do you still need to take liquids or gels in your hand baggage? Make sure you comply with the legal guidelines: pack them in containers with a capacity of maximum 100 ml and put them together in a transparent resealable plastic bag with a maximum 1 litre capacity. Exception: baby food and liquid medicines accompanied by a doctor's certificate. Laptops and tablets should be separately submitted for screening. Coins, keys, wallets, mobile phones, watches and belts should be placed in a separate tray.