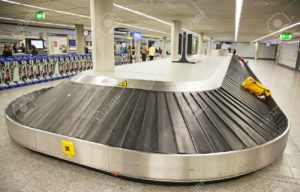 The baggage handlers and some of the check-in staff of AviaPartner, one of the handling companies present at Brussels Airport, stopped work this Wednesday afternoon. Dozens of incoming passengers are waiting for their luggage, and departing passengers for the departure of their flight. The baggage belts are at present at a complete stop.
Airlines now choose to either leave immediately without luggage or leave later.
A lack of gratitude for the flexibility of the staff after the attacks of March 22 was the reason for the strike. "Errors with the payslips was the last straw," said Kurt Callaerts, sector manager for the ACV-Transcom union.  "Many hours were not counted and transportation costs have not been reimbursed".
The strike action by the Aviapartner baggage handlers will inconvenience passengers at Brussels Airport, warns Anke Fransen, spokesperson of Brussels Airport. Though it is still too early to estimate the actual size of the movement.
"Airlines now choose to either leave without luggage or leave later," says Anke Franssen of Brussels Airport on Radio 1.
Unions and management sit together at this time to resolve the conflict. AviaPartner handles, among others, the baggage of Qatar Airways, Jetairfly and Etihad Airwayys.