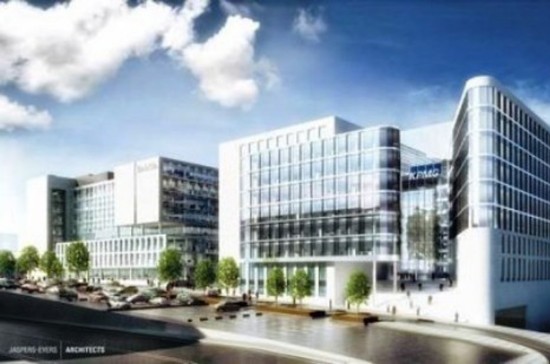 Microsoft has signed a lease agreement to set up its new offices at Brussels Airport in the PassPort building – a new real estate project developed by CODIC. The PassPort building is currently under construction and will be providing ultramodern offices with a sweeping panoramic view overlooking the runways as from 2018. This again sees Brussels Airport confirm its appeal as an intermodal platform with unrivalled connectivity in Belgium and to the rest of the globe.
CODIC and Microsoft have inked a long-term lease agreement to occupy 3,500 m² in the PassPort building currently under construction at the Brussels Airport site.
During the course of 2018, this is where Microsoft is set to open its 'Internet-of-Things' office. The Brussels office is to be a central gathering ground for staff, partners and customers. Microsoft Belux General Manager Michael Beal: "We are extremely proud to have the opportunity to open our 'Internet-of-Things' office at this unique location. We are looking to embrace sustainability, quality of life and ecology at our new office. Moreover, our customers and partners will be able to immerse themselves in the latest developments surrounding our cloud technology, including the Internet of Things, bots, machine learning and artificial intelligence."
In doing so, Microsoft will be joining two other leading companies along the runways: Deloitte and KPMG. Deloitte was the first to seize on the opportunities offered by the new office buildings at Brussels Airport. Deloitte will be opening its Belgian headquarters in the Gateway building (36,000 m²), next to the PassPort building, from January 2017. KPMG's Belgian head office is set to take in 13,500 m² of the PassPort building.
The arrival of these multinationals at Brussels Airport site points to a trend seen in many metropolitan cities around Europe, where large businesses are increasingly setting up office at major airport sites. "As Brussels Airport is a hub of various transport modes, the airport is attracting more and more leading companies such as Microsoft. For such businesses mobility and accessibility are just as important as the quality of the buildings. The fact that they are located at the heart of the airport, is very much a competitive asset for these companies which operate in extremely dynamic industries that are constantly evolving. The proximity of the European capital is another crucial deciding element in their decision," Brussels Airport Company CEO Arnaud Feist comments.
Codic International CEO Thierry Behiels: "The fact that prestigious companies such as Deloitte, KPMG and Microsoft are able to feel right at home at the airport site as part of our forward-thinking project only contributes to the sheer drive and dynamism of Brussels Airport at the heart of Europe. In 2010, we embarked on an analysis of the office market and of the office locations in particular. Further to a comparative market survey of the airports of Schiphol, Frankfurt and Munich, this unique location in Europe clinched it for us. As always, this concept for a set of high-quality office buildings was developed in accordance with the internal benchmarks of CODIC, in association with Jaspers & Eyers architectural engineering agency. Today, we are delighted to see that the choice we have made again confirms our position as a forerunner."
Brussels Airport, 15 November 2016