In September the number of passengers at Brussels Airport went up by 4.1% compared against September of last year. This sees Brussels Airport sustain the growth enjoyed during the summer months throughout September. The cargo volume rose by 1.6%. The full-cargo segment in particular is keeping cargo traffic at Brussels Airport on the up.
Passengers
In September 2015, 2,324,752 passengers travelled through Brussels Airport, which represents a 4.1% year-on-year increase. Especially the number of transfer passengers was seen to enjoy a gratifying 6.8% rise compared against September of last year. This serves to confirm Brussels Airport's role as a major hub in the Star Alliance network.
The highest growth was recorded by Brussels Airlines. However, the low cost airlines and long-haul flights also saw more passengers than in September of last year. In leisure traffic there is a noticeable impact of the negative foreign travel advice for Tunisia. As a result, the North African region as a whole was less popular as a tourist destination.
Cargo
Cargo traffic went up slightly by 1.6% year-on-year. Brussels Airport has noticed two opposing trends. Same as most other European airports, belly transport at Brussels Airport, i.e. the cargo traffic carried on board of passenger aircraft, saw a 8.9% fall by comparison with September 2014.
For the full-cargo segment, we are seeing a sharp 8.2% rise year-on-year. This sees Brussels Airport as an exception to the general downward trend of air cargo traffic in Europe. Around half of this growth is to be attributed to the new cargo of Ethiopian Airlines.
Recording a 5.5% rise, integrator traffic (DHL) is continuing the growth it has seen in the last two years.
Movements
The number of flight movements went up very slightly by 0.7% on September of last year, against a 4.1% rise in passenger numbers. The average number of passengers per flight went up from 116 passengers in September 2014 to 120 passengers per flight in September of 2015.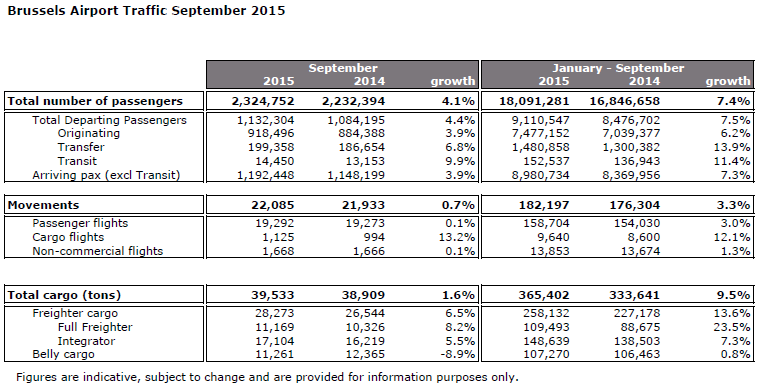 Brussels Airport, 9 October 2015