Brussels Airport is about to launch a renovation programme for the emblematic Sky Hall, which dates from 1958. In a first stage, the airport is investing around 2.6 million euro in the renovation of the façade.
In 1958, the opening of a big commercial airport was of strategic importance for our country. That enormous investment in a modern airport infrastructure underscores the economic importance of an airport of international allure for both Belgium and Brussels.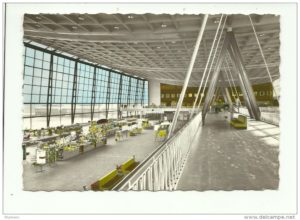 The Sky Hall, in fact a transit hall, and the associated terminal buildings were constructed in record time to welcome the visitors to the World Exhibition in Brussels in 1958. The existing infrastructure in Melsbroek could not handle the number of guests expected.
The Sky Hall was designed by the Belgian architects Brunfaut, Bontinck and Moutschen and is considered one of the classic examples of modern Belgian architecture. Between 1958 and 1994, countless Belgians have welcomed or waved off family and friends there.
"As airport operator, we are very proud to return this iconic building to its former glory.The Sky Hall is not only important for the Belgian architectural heritage, it is also a symbol of the importance of commercial aviation in Belgium. Once the renovation of the Sky Hall has been completed, the hall will be given a new purpose. At the moment, this has not yet been decided," explains Arnaud Feist, CEO Brussels Airport Company.
The building will be renovated with full respect for the original design. Brussels Airport will be starting the complex renovation in early 2017. The first stage will concentrate on the glass and steel structure of the façade.
Note from editor: forum discussion ==> http://www.luchtzak.be/forums/viewtopic.php?p=342456&sid=72c589bdb91fef39e26e23924e91ae68#p342456