In November, Brussels Airport recorded an 18.2% growth and is thus heading straight for the year 2000 passenger record. With 20.4 million passengers handled in the first eleven months, the 20 million passengers mark has already been exceeded and the 21.6 million record is within reach. This strong performance is mainly driven by the opening of new routes and by Brussels Airport's strategic position as Star Alliance hub.
Passengers
Brussels Airport welcomed 1,608,644 passengers in November, up 18.2% on last year (+247,415 passengers). This increase is largely attributed to Brussels Airlines and the low-fare carriers. Growth was mainly recorded in the O&D segment (passengers originating from or having Brussels Airport as their final destination) but the transfer segment too did exceptionally well with a 35.5% increase on November 2013.
From January to November, almost 20.5 million passengers travelled through Brussels Airport, up 14.7% on the corresponding period in 2013. This means that Brussels Airport is well on its way to break the year 2000 record of 21.6 million passengers in December.
Transfer traffic in the same period increased by 20%. This figure confirms Brussels Airport's position as major hub in the Star Alliance network.
Cargo
Strong growth was also recorded in cargo traffic: up 13.5% on last year. Cargo volumes flown are clearly recovering due to the increasing capacity provided by carriers such as Qatar Airways Cargo and Singapore Airlines Cargo.
In terms of cargo volumes carried, November 2014 even is the best month since June 2012. Belly cargo and integrator traffic continue to perform well. Full freighter traffic is showing positive growth for the first time in a long while due to growing demand and the opening of new routes from Brussels Airport.
Aircraft movements
The number of flights increased by 10.1% on November 2013, and by 7.1% over the first eleven months. The average number of passengers on board grew to 102.4 passengers per flight in November 2014 (+ 6% on November 2013). This is explained by the use of larger aircraft and an improved passenger payload.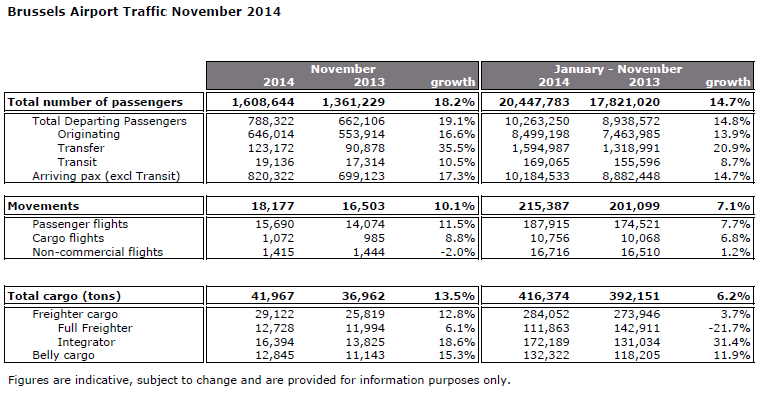 December 12, 2014