At this moment Brussels Airport (BAC) is preparing its strategic plan for 2040, a major expansion of Brussels Airport can be expected, newspaper 'Het Nieuwsblad' reports this morning.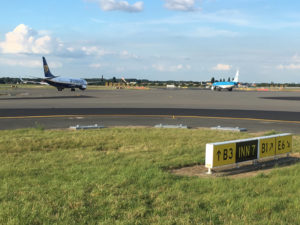 One of the most important items in the strategic plan is to double the traffic figures by extending runway 25L with 800 meters to 4000 meters, making it the longest runway in Europe. An extension of runway 25L would allow for more take-offs and aircraft will avoid overflying the Brussels region, where more stringent noise regulations apply.
In addition, Brussels Airport wants to develop a new business park and an extra access road to the airport terminal (via E40 – Kortenberg).
The surrounding municipalities will be invited first to get a full explanation.
Discuss: http://www.luchtzak.be/forums/viewtopic.php?f=7&t=44513&p=342622#p342622
Nieuwsblad.be: Luchthaven plant fors meer vluchten boven Vlaanderen