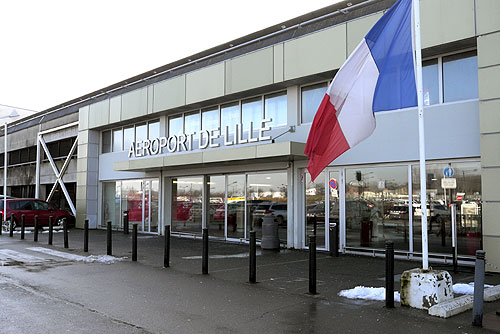 Lille-Lesquin Airport was requisitioned to accommodate flights that had previously Brussels Airport for destination and were diverted here. In total, the regional platform processed 20 additional rotations on Thursday.
Upon arrival at the car park of Lille-Lesquin airport, there is a high occupancy rate as in the days of major departures. The high attendance is confirmed in the terminal building, surrounded by police and heavily-armed soldiers. Bags are controlled at the lower level, before access to the elevators, which was not always the case these last days.
Upstairs in the lobby, Jean-Christophe Minot, Director of Lille airport, has his laptop screwed to his ears and gives instructions with many hand movements. When asked the question of whether the airport will be able to cope, the answer is immediate: "The increase in operations of the airport is under control for years. We can handle 14 aircraft at once. We favoured planes with bigger loads." And in fact, the rush seems absorbed by the teams which have also been strengthened. "We changed our schedules all night," says the director. He remains stoic before the wave of travellers, those who return and depart to Brussels thanks to special bus chartered by the airport, but also those who go on planes bound for Algeria, Greece and many other sunny shores.
A capacity of 2.5 million passengers per year
And about the costs arising from the handling of transit passengers by bus, he explains that it is simply a question of solidarity. As in the navy, aviation makes people stick together. The airline Vueling also asked to be able to send its planes to Lesquin. A dozen additional rotations are expected on Saturday.
As he explains, the interest of airlines for Lesquin reflects its ability to handle additional flights: it is sized to accommodate 2.5 million passengers per year. "In terms of movements we make 8 to 9% more. We expect 2 million passengers this year. We work with Air France, easyJet, and Aegean just joined us and this is for the long term. We continue with our traditional customers such as Air Azur and Air Algeria, excluding holidays flights,"says Jean-Christophe Minot.
The bar and restaurant doubles activity
At the bar of the airport yesterday morning, two people serve the orders. They are very active, even if it sometimes a little rattle in the queue.
"We have doubled the workforce. We had to recall people for morning, afternoon and evening service. Today we will be five working at the bar all day. We made new orders, we are regularly restocking. Overall our business has jumped 50%, "says William, the manager. The restaurant upstairs and the other points of sale are also doubling their workforce.
"It will organize"
At the press shop, the increased activity is considered in the knowledge that it will ramp up with the scheduled arrival of new rotations.