AEGEAN offers alternative flights to/from Lille on 29th and 30th of March, 2016 as Brussels Airport remains closed until further notice
As it is very likely that the closure of Brussels airport will be extended, AEGEAN has cancelled all Brussels services until March 30, 2016.
AEGEAN in order to assist its passengers and meet their immediate needs will extend its operations through Lille airport, in France. Lille Airport has good and frequent rail connections with Brussels.
AEGEAN will operate alternative flights to/from Lille as follows: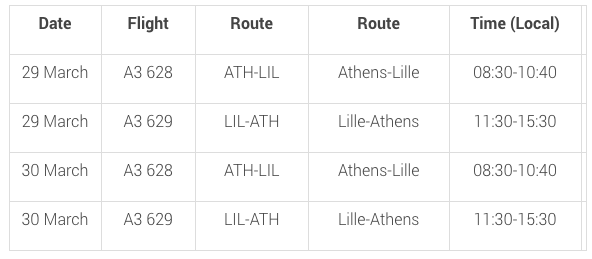 Passengers must rebook their flights before departing for the airport by calling at
Greece: 801 11 20000 or (+30) 210 6261000 (from a mobile phone or from a location outside of Greece).
Belgium: (+32) 275 34710
France: (+33) 170 031323 or their travel agent.
It is noted that passengers must make their own arrangements for their transport to/from Lille airport.
Extension for tickets rebooking / cancellations.
Rebooking/reissue fees are waived for ticket modifications and full refund will be granted in case of cancellation, for all passengers holding tickets to/from Brussels with ticket issuance date on/before 21st of March , initial travel date on/before 31st of March and new travel date on/before 31st of May.
We apologize for the inconvenience caused and thank you for your understanding.
Further updates will be communicated as soon as they are available via www.aegeanair.com