Brussels Airport has released a video on Youtube showcasing how the airport could look like in 2040.
The three minute video offers viewers a unique birds-eye perspective on the various aspects of the airport and all the possible developments that might be implemented between today and 2040.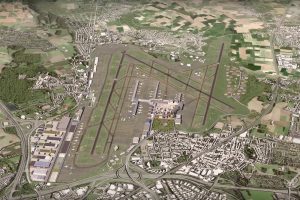 As communicated by the airport in previous statements (see our previous article 'Brussels Airport unveils its Strategic Vision 2040'), the airport expects passenger figures to nearly double in the next two decades, from 21.8 million in 2017 to 40 million passengers by 2040. This means that the airport faces a serious challenge and will have to drastically upgrade its facilities.
First of all, this includes an optimisation of the airfield as well as a capacity increase. One of the various options is an extension of the taxiway leading to the threshold of runway 25L. Another option is to extend both the taxiway and the runway itself.
Apart from an optimisation of the airfield, the terminal itself will be completely redesigned to accommodate the aircraft of the future. This includes a demolition of the refurbished satellite building (where the head office of Brussels Airport is currently located) in order to construct a new south pier.
One of the final challenges of the airport will be to increase its overall accessibility. Therefore not only will the access to the terminal area have to be completely redesigned (including a new drop-off area and a brand new airport passenger plaza), but the airport itself will have to become a true intermodal hub.
Watch the complete video here:
1 September 2017
Photos: copyright (c) Brussels Airport