In October 2016, Brussels Airport welcomed more than 2.05 million passengers. This is 3% lower than October 2015. By contrast, cargo traffic recorded a 6.5% growth on October last year. As it did last month, the full freighter segment grew strongly by 28.8%. Hainan Airlines announced the start of a nonstop service between Shanghai and Brussels.
Passengers
Brussels Airport welcomed 2,055,654 passengers in October, the second highest number ever for the month of October, after the record year of 2015. In comparison with 2015, the number of passengers in October was 3% lower.
The number of originating passengers departing from Brussels Airport was 2.8% down on October 2015. This decrease is a consequence of the 22 March attacks at the airport, the departure of Jet Airways from Brussels Airport at the end of March, and the strong decrease in the number of bookings by Belgians wishing to travel to Turkey.
Transfer traffic, by contrast, saw a growth of 6.6%, mainly thanks to Brussels Airlines and the further consolidation of Brussels Airport as a Star Alliance hub. The highest growth figures were recorded by Brussels Airlines and Ryanair.
Moreover, from 2017 Brussels Airport will be introducing new long-haul flights, which can only boost the airport's growth figures. Hainan Airlines is launching direct flights between Shanghai and Brussels. In addition, in March 2017 Brussels Airlines is starting a five weekly service to Mumbai. Delta Airlines is to resume its daily service to Atlanta at the end of March 2017.
Cargo
Cargo transport at Brussels Airport recorded strong growth in October, as it had in September. The 6.5% increase on October 2015 is due largely to the full freighter segment, which rose by 28.8%. The growth in the full freighter segment was driven mainly by Singapore, Qatar and Ethiopian Airlines.
For the first time in a long while, integrator services have seen a slight decrease. This is explained by the fact that October 2016 included five weekends and on weekends there is much less cargo transport than on weekdays.
Belly cargo, cargo transported on board passenger aircraft, has fallen by 4.5% compared to October last year. This is largely due to the departure of Jet Airways to Schiphol in March this year. The decrease was partly compensated for by a growth in volume at both Brussels Airlines and United Airlines.
Movements
The number of flight movements in October fell by 2.3% in comparison with October last year. The number of passengers per flight fell by 2.2% below that of October last year. The number of cargo flights, on the other hand, increased by 2.9% over the previous year.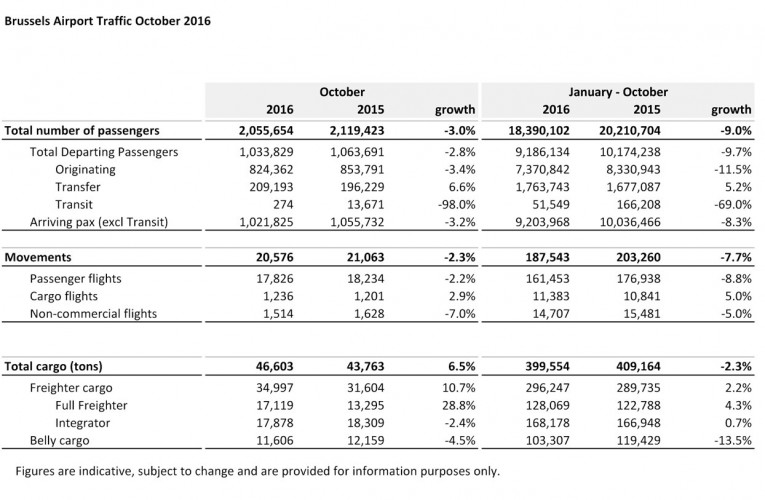 Brussels Airport, 22 November 2016