In September, Brussels Airport received more than 2.2 million passengers, 2.8% down on the same month of record year 2015. Cargo transport, just like last month, has grown on September last year (+8.5%). The full-cargo segment has risen sharply by 31.2%.
Passengers
Brussels Airport has received 2,258,879 passengers in September, which is 2.8% fewer than in September 2015, a record year for the airport. In comparison to the previous months, the difference in passenger numbers between 2015 and 2016 is steadily shrinking.
The number of originating departing passengers in September is 5.2% down on 2015. This is partly due to a decrease in the number of bookings by Belgians wanting to travel to Turkey. On the other hand, there are also fewer tourists from Southern Europe, North America and Asia to our country because of the various terrorist attacks over the past year in Western Europe.
Transfer traffic has seen very strong growth of 14.8% compared to September last year. The growth is due to the commercial strategy of Brussels Airlines within the Star Alliance network. The growth is all the more impressive because Jet Airways also carried many transfer passengers up to March of this year.
Several airlines have grown in September compared to the same month last year. Especially Brussels Airlines and Ryanair, among others, have been showing nice growth figures.
Cargo
Cargo transport at Brussels Airport also rose sharply in September, as it did in August. The 8.5% growth compared to September last year is due mainly to the full-cargo segment, which has risen by 31.2%. The full-cargo segment saw growth with Singapore Airlines, Qatar Cargo and Ethiopian Cargo. These last two cargo carriers started operating extra flights this month.
The express services segment rose by 2.8% compared to September last year thanks to the growth in e-commerce. Belly cargo (freight transported on board of passenger aircraft) dropped by 4.8% compared to September last year. This is due to a decrease in the number of long haul flights compared to September last year by the departure of Jet Airways.
Movements
The number of flight movements in September decreased slightly by 1.9% in comparison with September last year. In September there was an average of 120 passengers per aircraft on board. That is the same number as in September 2015.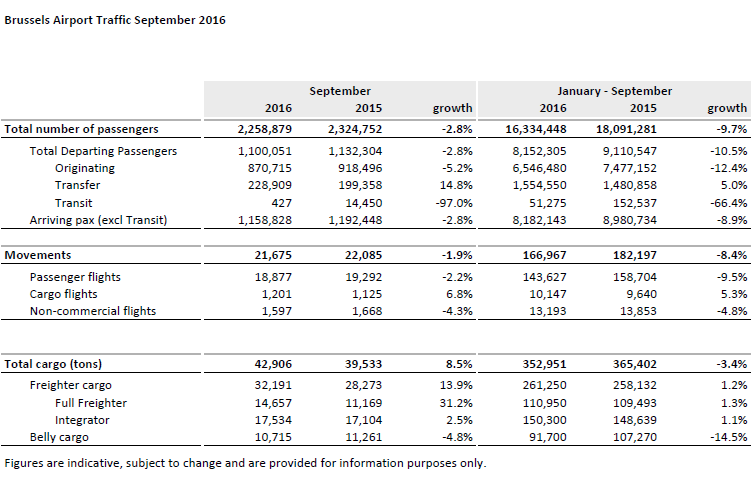 21 October 2016