Twin Jet comes to Bordeaux
Bordeaux Airport is delighted to announce the arrival of Twin Jet to its hub. The French company will be opening a new route between Bordeaux and Metz-Nancy-Lorraine, flying three times a week.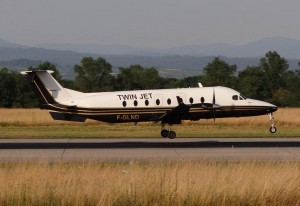 The Metz-Nancy-Lorraine route will open on 13th April 2015 with 3 weekly flights on Mondays, Wednesdays and Fridays. These flights will use 19-passenger Beechcraft 1900 aircrafts.

Lorraine airport is located:
–    to the north of Nancy (35km), Pont-à-Mousson (15km) and Toul (60km)
–    to the south of Metz (25km), Thionville (50km ) and Luxembourg and Saarbrucken (80km)
With 3 flights per week, this route is perfect for passengers travelling for either business or pleasure.
Tickets can be purchased from the company's website www.twinjet.fr, by telephone on
0892.707.737 or through travel agencies.
Twin Jet is a FlyingBlue partner, a loyalty programme belonging to the Air France – KLM group. Passengers can accumulate miles on their loyalty card and double them until 31st May 2015 to celebrate the launch of this new route.
About TWIN JET:
Founded in 2001 in Marseille by air transport professionals, TWIN JET is a French airline company which specialises in regional air travel and "business"-type flights. It meets market requirements in terms of regularity, punctuality and direct flights. Its fleet comprises 10 aircrafts, making TWIN JET the number one company in Europe and the eighth in the world to use Beechcraft 1900 turboprop aircraft. Specially adapted to regional flights, these planes are environmentally friendly and respect environmental standards.
TWIN JET has regular flights to 14 different airports:
Basel/Mulhouse/Fribourg, Bergerac, Bordeaux, Limoges, Lyon, Marseille, Metz/Nancy, Milan, Nice, Paris, Pau, Périgueux, Stuttgart and Toulouse.
TWIN JET completes over 200 weekly flights and is further developing its national and international network.
08/04/2015