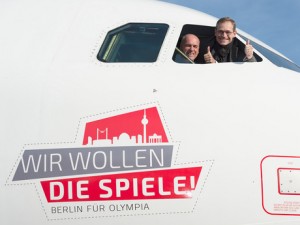 From now on, an airberlin Airbus A320 is the official "ambassador of the skies" for Berlin's bid for the 2024 Olympic Games. The twin-jet aircraft (official registration D-ABFG – "Fox Golf") was presented today at Tegel Airport in the presence of the Governing Mayor of Berlin Michael Müller, Stefan Pichler, CEO of airberlin group, and Hartmut Mehdorn, CEO of Flughafen Berlin Brandenburg GmbH.
Michael Müller, Governing Mayor of Berlin: "Wir wollen die Spiele" – "We want the Games" – that's the logotype which this Airbus A320 of the airberlin fleet will now be bearing on its flights. And so at each destination it underlines our desire to host the Olympic and Paralympic Games in our city. I thank airberlin for making an active contribution to the campaign, as are many other enterprises too. There's a natural partnership between our city and airberlin and I'm delighted that the airline's CEO, Stefan Pichler, is highlighting this partnership right at the start of his tenure by means of this great initiative."
Stefan Pichler, CEO of airberlin group: "We bear the city in our name. We already bring visitors to Berlin from 62 cities all over the world – and in 2024 there are sure to be significantly more routes and passengers. Berlin is Germany's best-known international brand and so the 2024 Olympic Games would be perfect for our capital. Now our "Fox Golf" is travelling around Germany and Europe as an ambassador for the Olympic Games in Berlin, and we as the Berlin-based airline will be supporting this partnership in the air and of course on the ground, too."
Hartmut Mehdorn, CEO of Flughafen Berlin Brandenburg GmbH: "It's a point of honour that the airline is supporting Berlin's Olympic bid. If there's one city that would be great for the Olympics, then it's Berlin. Travellers presently taking off or landing at Tegel Airport can see our commitment to this idea displayed on many posters and billboards. Moreover, promotional teams are out and about in the terminal, beating the drum for the Games in our city. But this great initiative today with the Governing Mayor and airberlin CEO Stefan Pichler is certainly a highlight of the Olympic campaign. So I'm all the happier that the event is taking place here at Tegel Airport."
The airberlin Airbus A320-200 – facts and figures:
The branding logotype measures 1.60 x 1.00 metres and was applied to the aircraft fuselage by two technicians in the airberlin hangar at Tegel Airport in the night from Wednesday to Thursday. In preparation for this the aircraft received an environmentally friendly dry clean.
180 passengers, 2+4 crew members
Year of delivery: 2010
Unladen weight: 37,230 kg
Length: 37.57 m
Height: 11.76 m
Cruising speed: 858 km/h
Max. cruising altitude: 12,13 km
Max. range: 5,500 km
More information on Berlin's bid for the Olympic Games:
05.02.2015