The first construction stage of the refurbishment of the runway of Schönefeld Airport has been completed according to plan. The runway asphalt has been planed off and relaid. In addition the runway shoulders are being reinforced and new slit gutters for drainage are being installed. Lastly, the required aviation markings are being applied to the runway surface.
Karsten Mühlenfeld, CEO of the airport operating company Flughafen Berlin Brandenburg GmbH, commented: "The refurbishment of the North Runway is necessary at this point in time to ensure that when BER opens in the second half of 2017 we will have two fully functional runways. We are on schedule and will bring the runway back into operation as planned for the start of the winter flight plan on 24 October this year."
The first construction stage is located in the western part of the airport and, with a length of 2,100 metres, forms the largest construction area. With the completion, the taxiways for aircraft at Schönefeld Airport will now also switch to the currently operational South Runway. The taxiway now leads across the freshly asphalted surface in the extreme west of Schönefeld, clearing the way for the refurbishment work involved in the second construction stage. This will involve the planing and renewal of around 43,000 square metres of asphalt, reinforcement of the runway shoulders over some 30,000 square metres, 600 metres of drainage gutters refurbished by inliner and the installation of 50 LED lamps for the lighting system. Construction work for the third and last stage will commence in mid-August.
Around 100 construction workers are currently engaged in the work. During the repair work, air traffic at Schönefeld will be handled on the South Runway, now temporarily in operation.
Construction work and scheduling
The repair of the North Runway involves four work packages:
The two uppermost asphalt layers (about 12 centimetres) will be planed off and relaid on 190,000 square metres. An anti-slip surface will then be applied to 220,000 square metres.
The safety areas surrounding the runway and the runway end safety areas (RESA) will be upgraded in their design to comply with the EASA standard analogously to the South Runway.
About 1,500 "light bulbs" for the approach lighting, the runway lighting and the taxiway lighting will be replaced as part of the North Runway repair work. The lighting systems on the runway and taxiways will be upgraded to the latest in LED technology.
The slotted channels on both sides of the North Runway will be demolished and rebuilt, sections of the rainwater gutter system will be repaired and parts of a wastewater gutter will be replaced.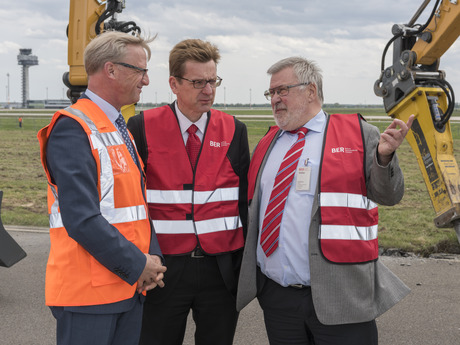 20.07.2015